Forum home
›
Commuter cycling forum
›
Commuting chat
Knee Pain - 40 miles - clipless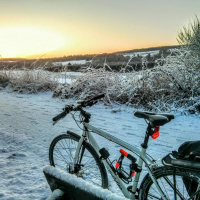 seajays
Posts: 330
OK - so I did my
longest ride
last week, managing 40 miles round trip. Everything going really great, felt good, however about 2/3rds started to get pain on the outside of my knees. Buy the end of the ride this was quite painful, and took a couple of days rest after to get back to normal again.
I got click-r SPD clipless pedals a few weeks back. Now when I first started with them I had them fairly straight, and immediately got some pain on the outside (particularly in my right knee) on my 6 mile commute. Reading up about them it seemed this might be to do with the angle so I adjusted the cleats so my heels were more inwards, the right one had to be as far as the cleat would allow. This seemed to sort it for the commute - no knee pain since.
Since the long ride last week though I read some more, and some suggest pain on the outside of the knee (Iliotibial Band?) could also be to do with saddle height - so I have lowered in about 7/8mm, though haven't tried anything like the distance since. The commute was fine this morning though.
If however this doesn't work on longer journeys is there anything else I should look at/adjust? Should I try lowering the seat further still?
Cannondale CAADX Tiagra 2017
Revolution Courier Race Disc '14
My Strava