Forum home
›
Mountain biking forum
›
MTB workshop & tech
Some help with Specialized hubs & axles please....
IanTrcp
Posts: 761
I wonder if one of you can help me with this.
I have a 2012 Specialized Epic S-works 29er frame, built up (by a previous owner) with various components including what I believe are 2012MY Rockshox SIDs with the Specialized Brain. They may be 2011 - despite much determined googling I haven't confidently located the relevant manual to confirm which they are. Anyway....
Fitted to the bike are a set of Roval alloy wheels. I saw the carbon "Trail" version of these at a knock-down price and thought I'd treat myself. I've sorted out the rear fit with the supplied end caps, but - to my surprise - have run into trouble up front despite the bag of end-caps supplied with the new wheels. I think that the forks have a non-standard bolt through axle. None of the supplied end-caps work.
Here's a picture of the old wheel/hub with the axle:
And here's a picture of the new wheel/hub, which (as you can see) is far larger in diameter: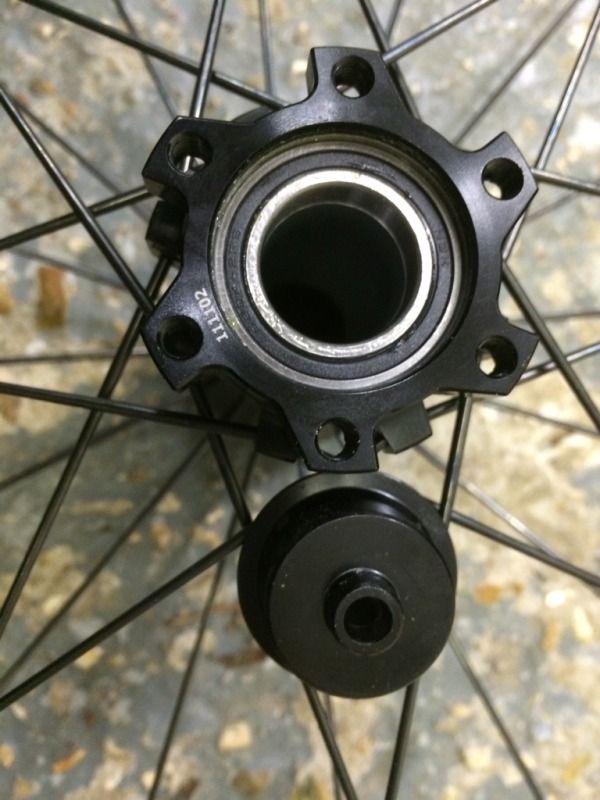 I'm hoping that my new wheels can be used with the existing fork/axle setup. Perhaps with a set of end caps or an axle adapter? If someone could help me work out what I need, I'd be really grateful!
Thank you in advance.