Forum home
›
Road cycling forum
›
Your road bikes
My new Condor Fratello
bobmcstuff
Posts: 11,177
I have been riding a 2012 Giant Defy 2 (alu) which I got on cyclescheme at the end of 2012. Decided I wanted a winter bike, but also I might want to do some light touring next year so ended up settling on a Fratello (will take better pics soon, phone pics for now):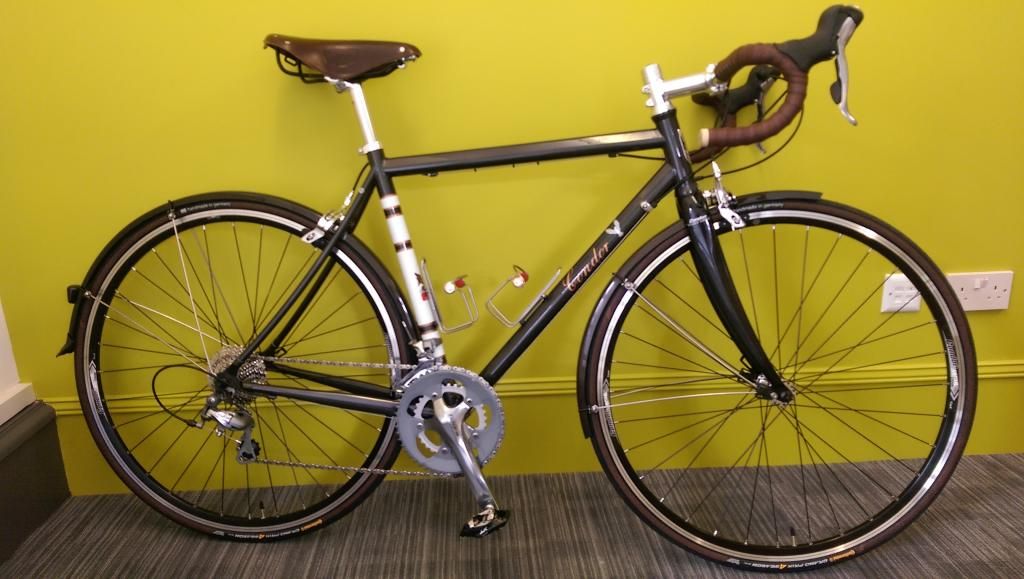 Frame: Condor Fratello, Slate, 52cm
Forks: Condor Pioggio Carbon
Bars: Condor Strada
Stem: Condor Strada
Headset: Condor branded
Bar Tape: Brooks Leather
Front Brake Lever: Tiagra
Front Caliper: Condor long drop
Rear Brake Lever: Tiagra
Rear Caliper: Condor long drop
Shifters: Tiagra
Cables: Tiagra
Front Mech: Tiagra
Rear Mech: Tiagra
Seat: Brooks B17
Seat Post: Condor Strada
Seat Post Clamp: Condor Strada
Cranks: Tiagra
Chainring(s): Tiagra compact
Chain: Tiagra 10sp
Cassette: Tiagra 10sp 12-30
Pedals: XT (yes I ride SPDs... Went for caged ones on this so I can ride it in normal shoes if needed)
Bottom Bracket: Tiagra
Wheelset:
Rim: Condor Strada Miche
Spokes: ?
Hub: Condor Strada Miche
Tube: ?
Tire: Continental GP4 Seasons in 28c flavour
Accessories: Elite Ciussi Inox bottle cages
Weight: 11.1kg, a little heavier than I thought. Makes it 2.2kg heavier than my Defy.
Other info:
First off it definitely said 9 speed on the build list when I bought it, but having looked in more detail it's definitely Tiagra 10sp
Seb at Condor was really helpful in helping me choose the bike/build, sizing etc and very responsive on emails and over the phone. As it was mail order I obviously couldn't try it out but he asked a lot of questions about my measurements and the setup of my Defy and suggested what frame size and bar/stem combo to go with. Also I was told that I might not be getting the bike for another couple of weeks, so was caught completely off guard when it arrived today - according to my colleagues it was like having a small child in the office
Only possible negative is a bit of damage to the Brooks bar tape and end caps during delivery: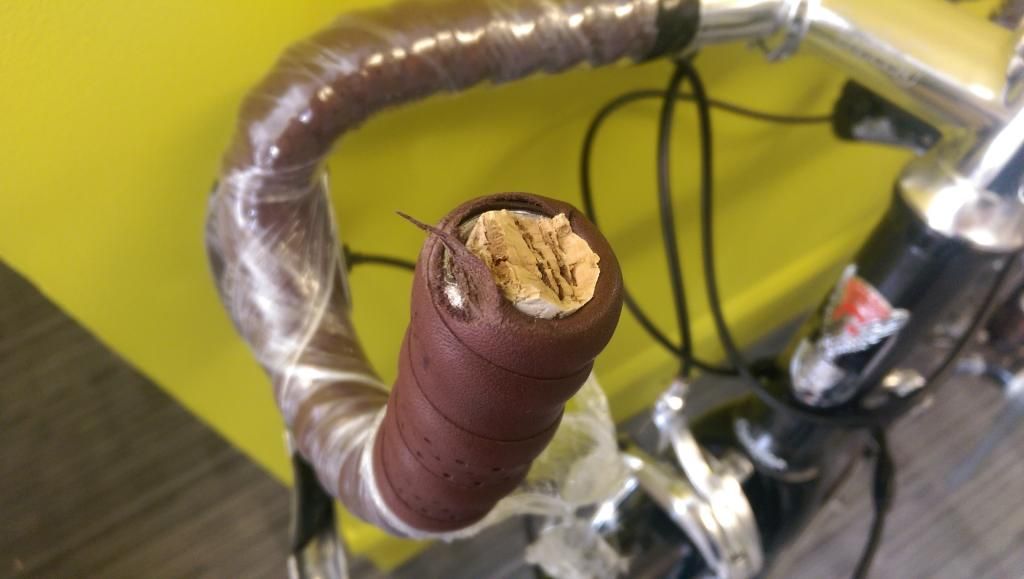 I couldn't see any damage to the box so my thinking is that maybe the box was kept upside down for a time and the bike was resting on the end cap. In any case Seb kindly offered to send me a new set of bar tape and end caps, which I really can't complain about as the damage is mostly cosmetic.
There's no getting around the fact that this is one of the cheapest possible Fratello builds - the only real "premium" parts (apart from the frame) are the Brooks saddle and tape. I did look at some more expensive builds, but I decided that it wasn't worth getting fancy wheels and groupset on a winter bike, and if I do decide to do much touring I might want different wheels for that. My Defy has Tiagra and that's run faultlessly so I just decided to keep the same.
Plus, I already have a set of Zondas on my Defy which I can always borrow if I decide I need lighter wheels for whatever reason (I have Tiagra 10sp on that one as well so should be interchangeable).
All in all very happy with the service from Condor - wasn't planning to go cycling today, but going to have to go for a quick one to try it out...
Of course this does mean my winter bike is now worth more than my "summer" bike... Wonder what I'll be getting next year