Forum home
›
Mountain biking forum
›
MTB workshop & tech
Shimano M395 / disc rotor compatability
Mister_g
Posts: 55
Hello all,
I have a Giant Talon 1 fitted with Shimano M395 calipers and 160mm SM-RT56 rotors marked 'Resin Pad Only'.
I have put ~130 miles on it over the last few months (almost all off road) and noticed that the original pads were wearing quite quickly. When looking for replacement pads, I saw that I could get a pair of RT66 disc rotors from CRC, for the price of a set of pads, that would let me run sintered pads (for better life, & maybe less fade). One of the questions on the CRC page was whether the rotors were compatible with 395 calipers, and the answer (from CRC Staff) was "Running this rotor with the M395 caliper and Sintered pads will not be a problem."
Having ordered them, and fitted the front, I'm concerned that the RT66 aren't compatible with the M395 calipers:
Here they are side by side (RT56 on left, RT66 on right):
Here they are with the RT66 on top of the RT56 - the outer part where the pad contacts is substantially narrower on the RT66 than the RT56.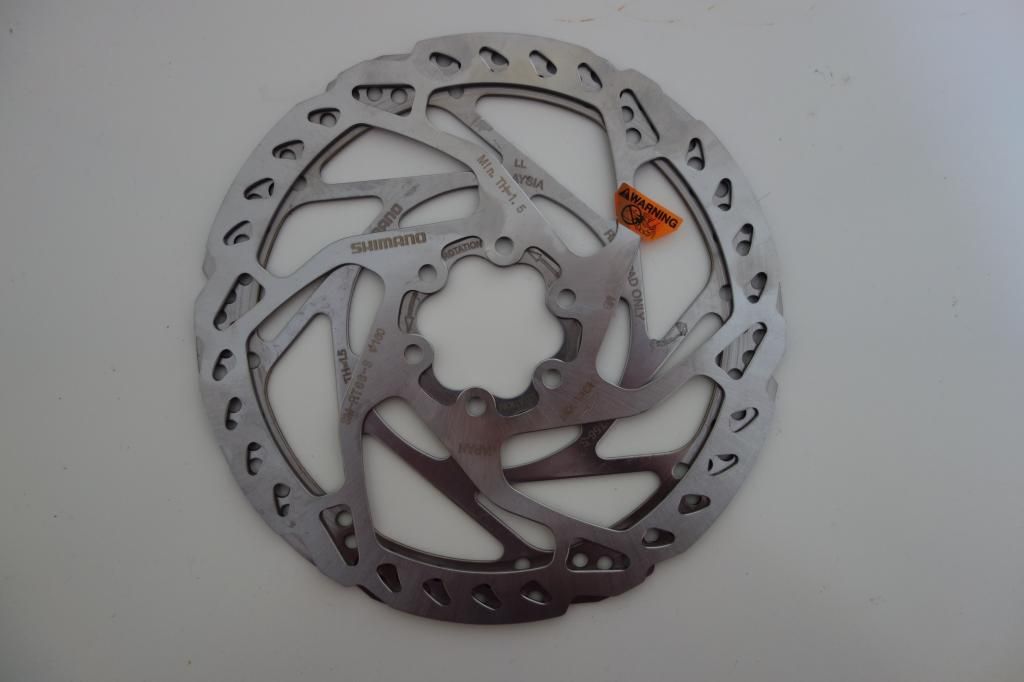 I fitted the disc and rode around the block to bed the pads in a bit and you can see that the pad is running against the disc spider arms by several mm:
This doesn't look acceptable to me, but would welcome 2nd opinions.
After some further research, I believe that the disc rotors I would need to take the full width (depth?) of the M395 calipers, that are compatible with metal/sintered pades would be the SM-RT61. Can anyone confirm that, or offer an alternative? (They look like they have been discontinued, but are still available on ebay.)
At the moment, I'm inclined to take the RT66 off again and return the un-used one, at least to CRC.
Thoughts & advice appreciated.