Forum home
›
Road cycling forum
›
Wear rate of Schwalbe Ultremo HT tubulars??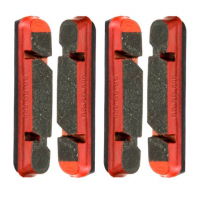 neeb
Posts: 4,467
Fitted a pair of these a while ago and the rear one is showing threads after only about 800 miles!

Is this normal? The front one is fine, still has the file-pattern tread on it. I'm actually not sure if what is showing is the threads as such or the "v-guard" puncture protection strip. It looks like tightly woven threads but a little more like tough nylon than the usual bike tyre threads. You can sort of see a very faint raised strip all of the way around under the rubber, both back and front. Wondering of it's a dud tyre and they put the v-guard too near the surface or something.

I really hope they don't wear that fast as they are lovely to ride, very grippy and haven't punctured but they are also pretty expensive..

I think maybe this tyre has now been replaced by the Schwalbe One tubular though.