Forum home
›
Mountain biking forum
›
Your mountain bikes
2004 Kona Cindercone Revival
will_85
Posts: 84
Here's the start of my 2004 Cindercone revival thread. Picked up the bike a couple of years bike & not done too much to it as yet. Recently bought myself a new Trek 4700, but I just cant resist playing with this still! Frames a little small for me being a 17" (Im 5' 11") but as a weekend run about to have some fun on it does the job well enough, I kind of like it being a bit small.
The plan is to convert it to a 10Sp, rear brake only - keep it nice and light, nothing complicated, just good fun. Currently waiting on a new bottom bracket, then ill be ordering a new chain ring to use with the existing Deore cranks to run as 1x8, before later converting to 1x10. Any advice on what size chain ring to get would be helpful, I was looking at a 40 tooth FSA ring - Its almost all flat where I live in London, so getting up hills isn't really an issue & I'd still like to get good speed out of it. Also any pointers in the direction of a good chain guide that will do the job without breaking the bank would be great! Anyway, here she is at the start of the process
Pics: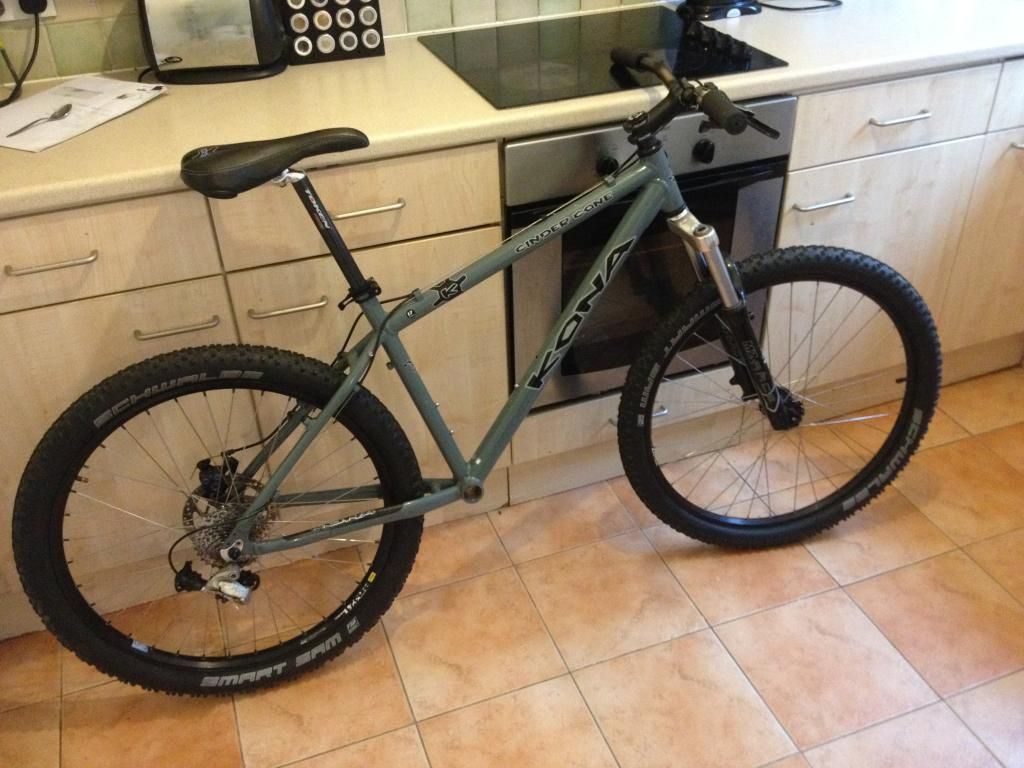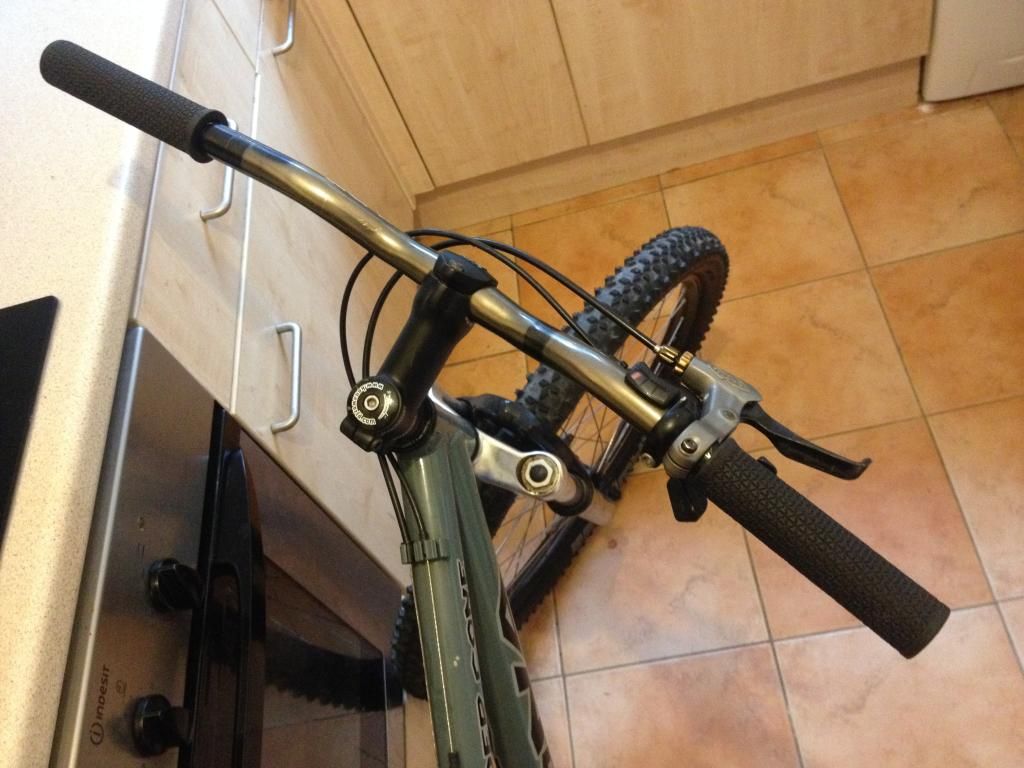 Frame: 2004 Kona Cindercone 17"
Forks: Marzochii MZ Race 100mm
Bars: Kona riser
Stem: Truvativ XR
Headset: Cane Creek A-head set
Grips: Bontrager
Bar Ends: N/A
Front Brake Lever assy: N/A
Front Caliper: N/A
Front disc: N/A
Rear Brake Lever assy: Avid FR-1 lever
Rear Caliper: Shimano BR-M475 Mechanical
Rear Disc: Shimano 160mm Rotor
Hoses: Shimano
Shifters: Shimano Deore
Cables: Shimano
Front Mech: N/A
Rear Mech: Shimano XT
Chain Device: Superstar
Seat: Kona
Seat Post: Token Carbon Fibre 27.2mm
Seat Post Clamp: Kona
Cranks: Shimano Deore
Chainring(s): FSA 40t Single
Chain: SRAM
Cassette: Shimano Deore 8Spd
Pedals: Wellgo Plastic platforms (For now)
Bottom Bracket: Shimano UN26
Front Wheel: 26"
Rim: Mavic XM 117
Spokes: DT Swiss
Hub: Shimano Deore M525
Tube: Continental
Tire: Schwalbe Smart Sam 2.2"
Back Wheel: 26"
Rim: Mavic EN321
Spokes: DT Swiss
Hub: Shimano Deore M525
Tube: Continental
Tire: Schwalbe Smart Sam 2.5"
Weight: TBC