Forum home
›
Road cycling forum
›
Your road bikes
1950's Steel
buddy_club
Posts: 935
You may or may not have seen this in the 'Road Beginners' section a while back, so im going to copy the important posts in and then add what ive done most recently at the end 8)
Post 1: Alright fellas,
My grandads just given me his 1970ish steel road bike, he used to ride for an Italian team back in the day and as such the bike is what I believe to be quite a high spec, it's been well looked after but as I normally ride mtb and this is my first road bike I don't really know what's what, but I just though I'd say hola.
Post 2: Right picture time, tried to keep in order with the OCP thread but its an iPhone camera so not brilliant.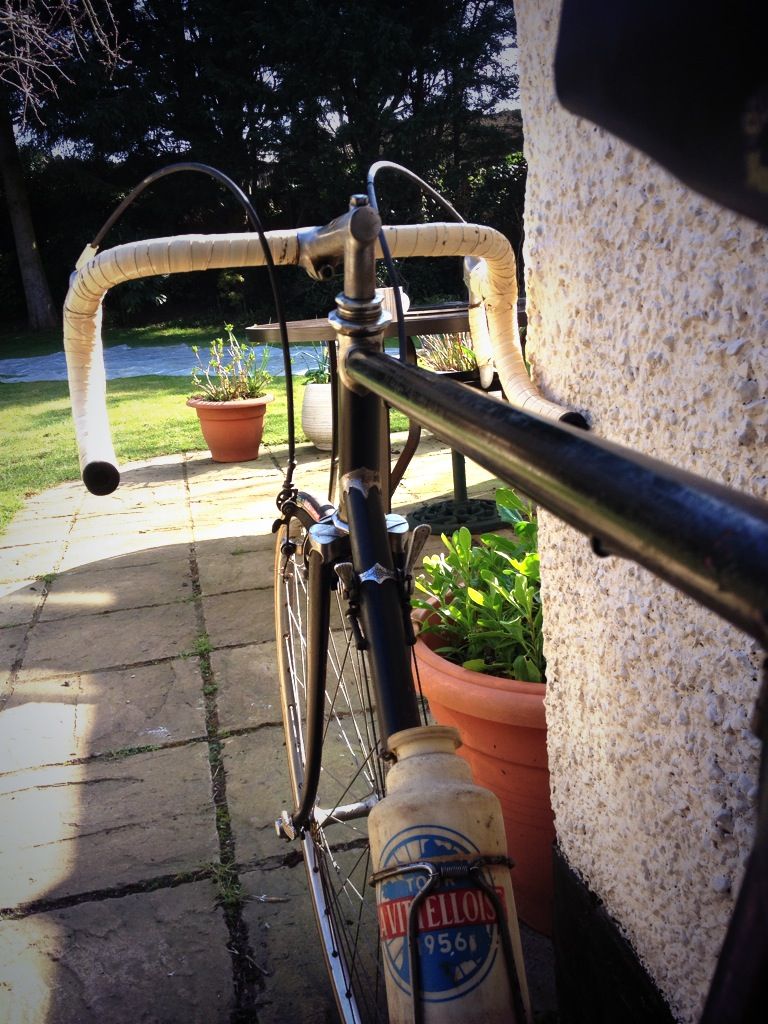 Looking a bit tatty at the moment, but she rides like an absolute dream and after a little clean up and some touch up paint i'll hopefully have her looking better this weekend.
(Sorry about the dog in the last pic :roll:
)
((If anybody could try and identify the stickers as well i'd be grateful as i would love to get a new set))
Latest update: Right so a few updates.... (sorry its been so long)
No 1 is some new bartape, so i know everyones is going to go "argh look at that bartape" but i was quite proud of it, and you might also say its wayy to modern but by god it is comfy! I wrapped over the existing 'tape' (if you might call it that) and then scraped off the rest from the areas that weren't covered. This took an absolute age to do and was quite frankly a right PITA! It took me a few hours, lots of swearing and bizarrely enough some limescale remover until it was all gone. The bar underneath was a right state, and there was rather alot of rust on it, but i attacked it with varying grades of W+D paper until the rust was gone, the brake leavers got the same treatment. I didnt polish it completely and left it still a little bit messy to be in keeping with the rest of the bike.
No 2 is not really an update as such, just something i want to share...
Basically i found a really old saddle attached to a bike in a skip. It is similar to the Brooks saddles i have seen, with the springs at the back. Its in a bit of a state at the moment but i'm hoping with some more W+D paper on the rails, and olive oil in the leather i'll get it looking a bit nicer. No pics of it yet as its still attached to said bike but i'll post some in a few days.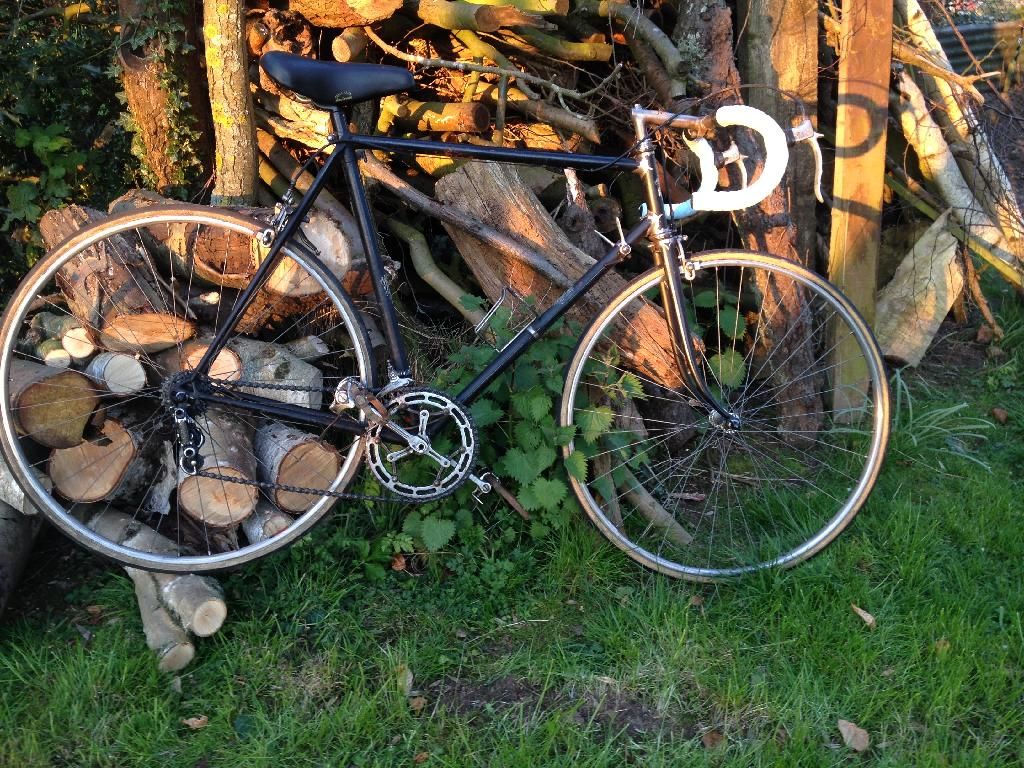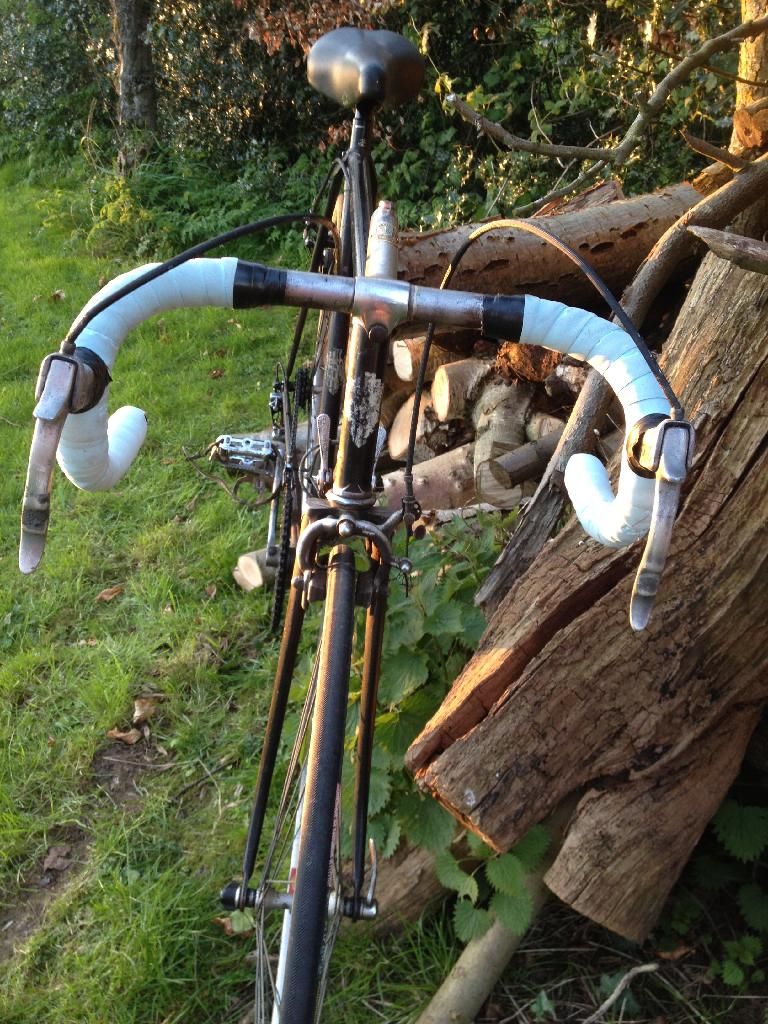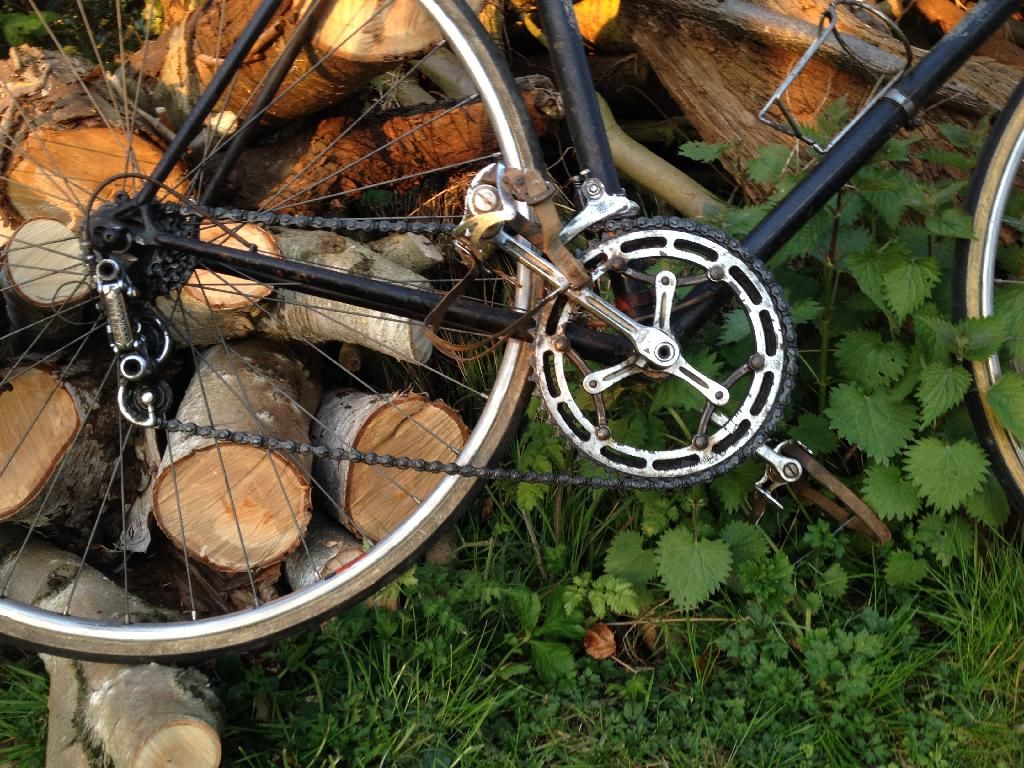 Sorry about the bad light in some photos, but its getting dark and my camera is an iPhone :oops: