Forum home
›
Road cycling forum
›
Workshop
How to Replace a Specialized Mindset with Sealed Cartridges
buckmulligan
Posts: 1,031
There are a number of threads on here inquiring how to replace the awful proprietary Specialized MindSet headset that's installed in a whole range of their bikes, with nice sealed cartridge bearings. I've just done this on my 2011 Allez Sport, so I thought I'd share my experiences with you and make a nice concise guide as to what's involved.
The headtubes of frames that are installed with one of these headsets are already machined to take cartridge bearings, so it's just a case of removing the parts that are already there and slotting the new bearings into place. I'm using some from Superstar, but there are plenty of suppliers out there, just make sure you get the right fit for your frame.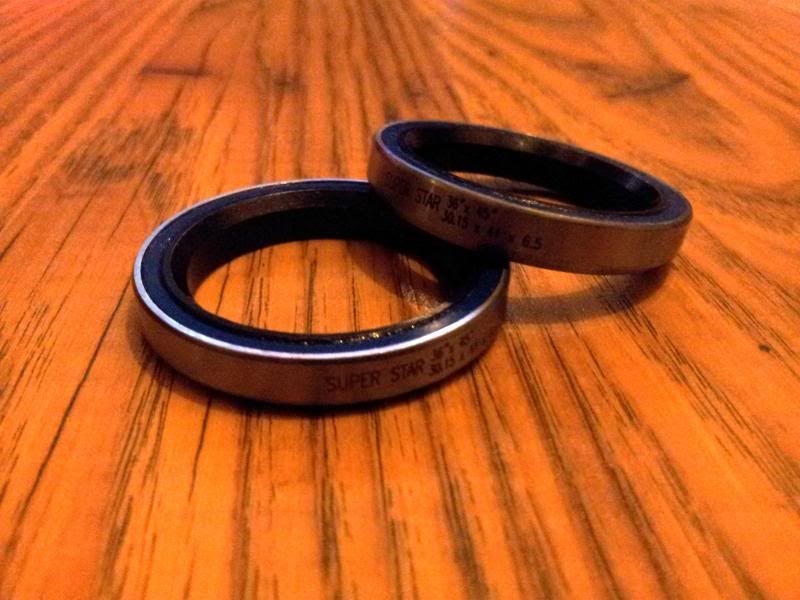 To find out what bearings you need you can consult this guide, otherwise Google will hopefully provide you with some answers.
http://service.specialized.com/collater ... -Guide.pdf
A quick primer on the various measurements of cartridge bearings:
Bearing contact angle
– the angle of the bevelled edges on the inner and outer edges of the cartridge bearing respectively (e.g. 36 degrees x 45 degrees).
Bearing outer diameter
– the OD of the bearing, should be a snug fit to the internal diameter of your machined headtube (e.g. 41mm).
Bearing inner diameter (not stated in guide above)
– dictated by the size of the steerer tube (e.g. 30.2 mm for a 1 1/8" steerer tube).
Bearing height
– depth of the cartridge bearing (e.g. 6.5mm)
Having looked through the guide above, all frames installed with a MindSet seem to be the same standard (36x45 degrees, 41mm OD, 30.2mm ID and 6.5mm height) although other sizes could exist of course.
Step 1: Remove handlebars and stem.
I'll presume you already know how to do this. I'd strongly recommend disconnecting the brake and gear cables and fully removing the handlebars rather than letting them dangle there. You'll probably end up doing it at some point in the procedure, so just get it out of the way at the start.
Step 2: Drop out the forks and remove bearings.
Start by removing your stem spacers, headset top cover and weather seal (if applicable). Then remove the silver split ring (use a screwdriver or some such implement to lift it out if necessary) at which point the forks should drop out if they haven't already. Remove the bearing races and bearing retainers (full of 1/8" balls) from the top and bottom of the headtube. Once you've removed everything that you can by hand and cleaned everything up, this is what you should have: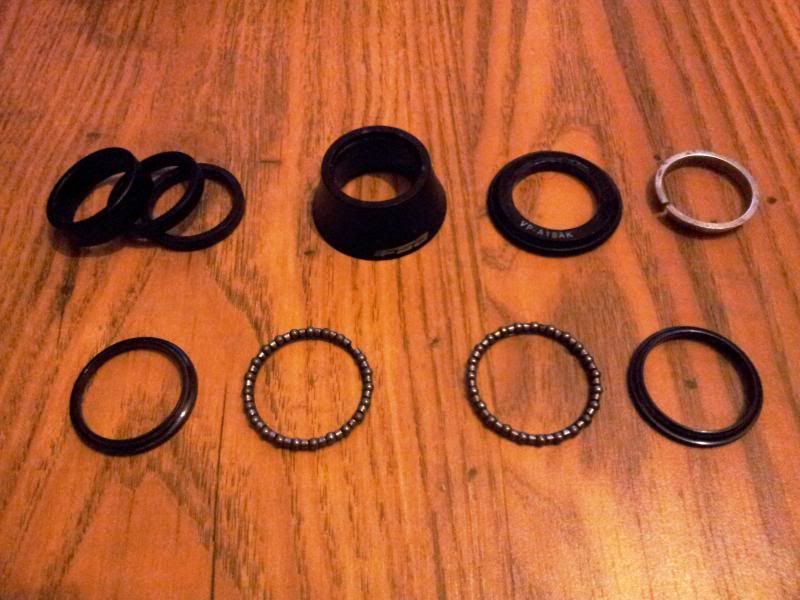 From top left to bottom right: stem spacers, headset top cover, weather seal, split ring, top bearing race, top bearing retainer, bottom bearing retainer, bottom bearing race.
You'll need the stem spacers, headset top cover, weather seal, and silver split ring later so put these somewhere safe. The bearing retainers and races will be surplus to requirements.
You'll also have a 'crown race' on the steerer tube. I put inverted commas because it's not a race as such (in that it doesn't actually make contact with the bearings), it's just a bevelled mount to support the bearing race that you've already removed. Leave this in place:
Step 3: Knock out the headset cups.
This is where it gets tough, so get your LBS on standby! Pressed into the top and bottom of the headtube are two black metal bearing cups that need to be removed before you can fit sealed cartridges. There's a small lip on the cups (1-2mm wide) on the inside of the headtube that you can use to drive them out.
If you have a proper drifting tool, great! I didn't and tried to use the screwdriver and hammer method and just couldn't get them to move. Thankfully we have a new Specialized Concept Store in our city, so I relented and gave them the pleasure of doing it. Five minutes and five pounds later, your headtube should look like this: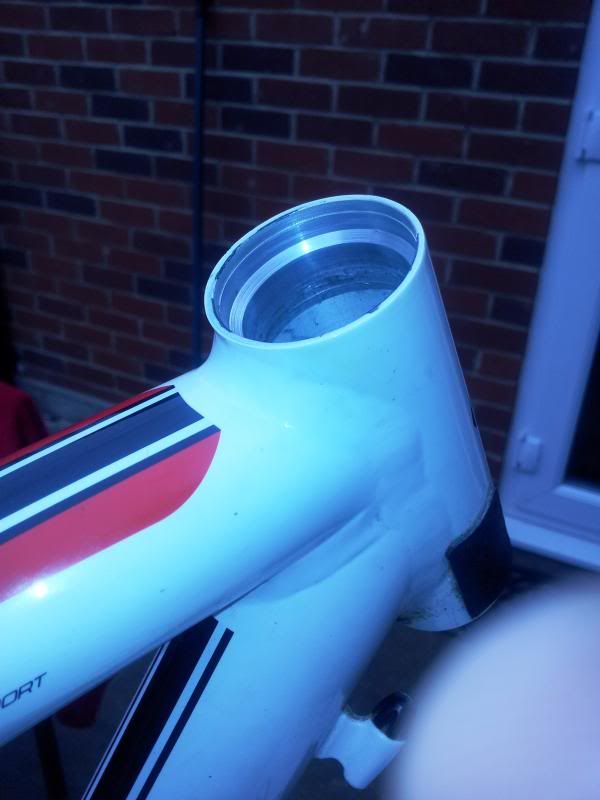 The cups that are removed look like this, these will also be surplus to requirements:
Step 4: Reassemble headset.
From here on out it's a doddle. Start by cleaning up all the surfaces and parts to be reused. Grease up the outer and inner surfaces of the new cartridge bearings with a nice thick grease, I used Park Tools Polylube 1000. Slide one bearing onto the fork steerer tube and make sure it rotates freely when pushed down on the 'crown race'.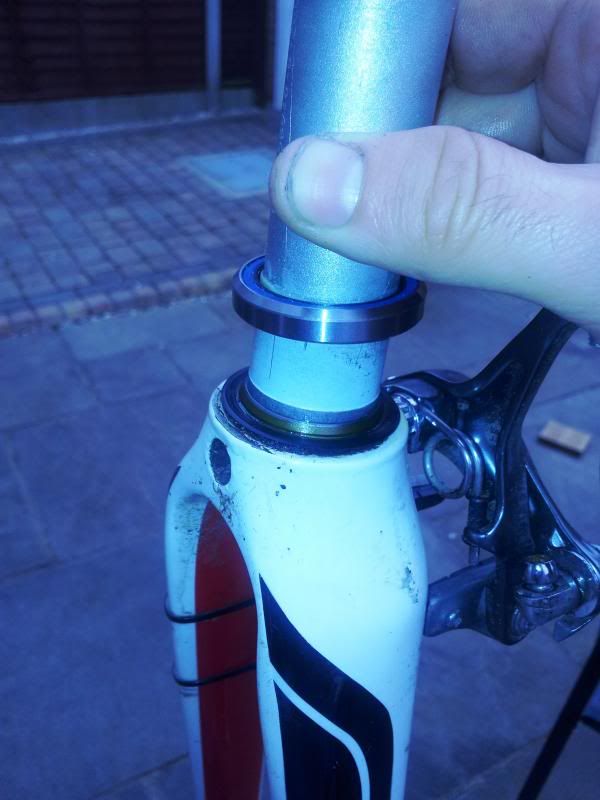 Reinsert the forks into the frame and slide the second bearing into place.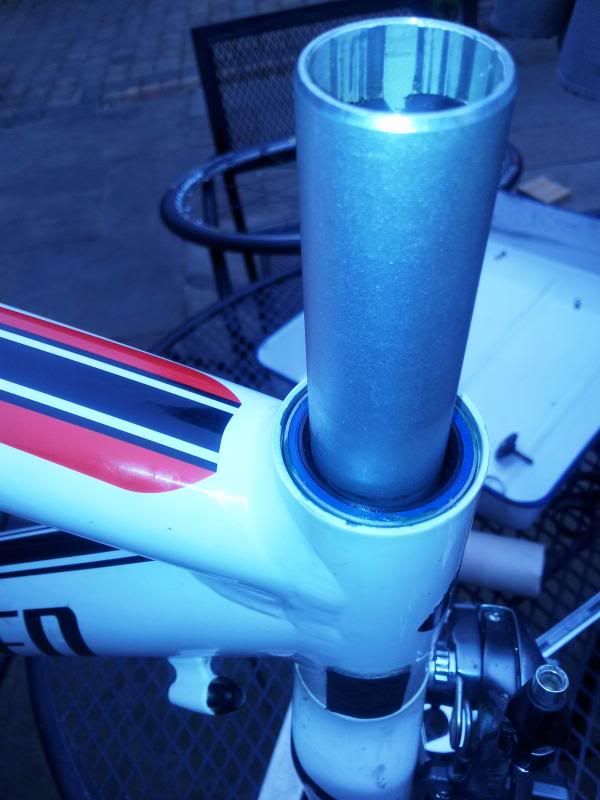 Next, slide on the silver split ring and push firmly into place on the inner race of the new sealed bearing. It's at this point you may need to insert a spacer, but more on that in a sec.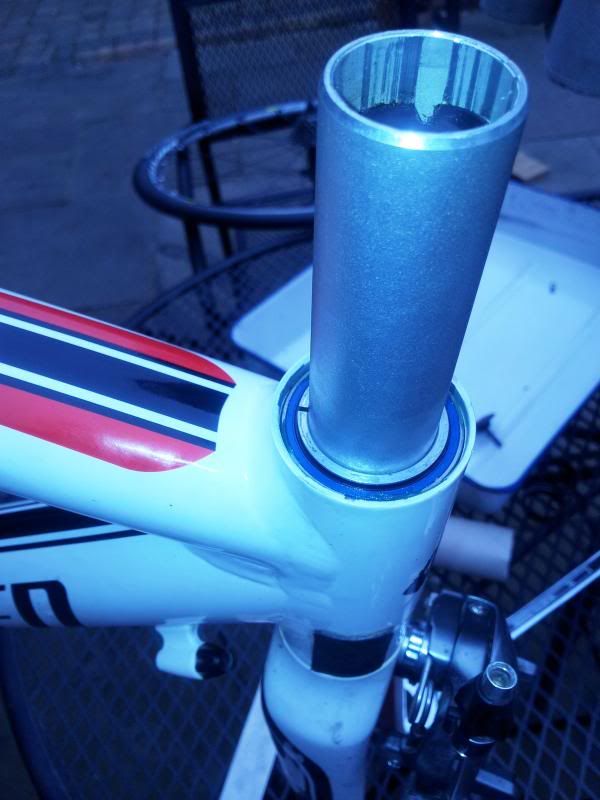 Replace the weather seal and headset top and compress the headset by hand and check the forks rotate nice and smoothly.
If you feel that there is any binding between the weather seal/headset top cover and the top of the headtube, it is likely that the cartridge bearing is sitting too low into the frame and you will need to insert a spacer above the split ring to give the required clearance. A standard 1 1/8th stem spacer should do the trick and required thicknesses are reported to range from 0.5 to 3 mm. I didn't need one at all for my Allez Sport (2011, 52cm) but if you do, I'd recommend putting say a 5 mm spacer in there to start with and then measure the gap between the top of the headtube and the headset top cover to get an idea of the thickness required.
Step 5: Tighten up and ride!
Stick your stem spacers, stem and handlebars back on and adjust the headset appropriately. I'll presume you already know how to do this too, if not there are plenty of generic guides out there which I won't repeat.
Good luck! 8)