Forum home
›
Road cycling forum
›
Your road bikes
'11 Canyon Aeroad CF Build - Updated with Rail 52's
NoMoreShadows
Posts: 36
March '14 Update:
I've changed the stem and have added a Carbon Rail 52 wheel set (
http://www.novemberbicycles.com/rail/
) with Tune front hub and a PowerTap G3 rear.
Ride wise, I'm really rather happy with it.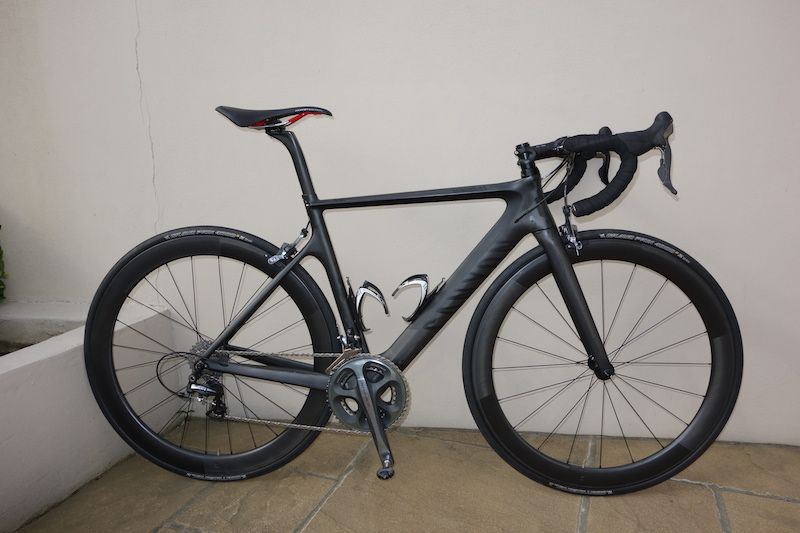 Frame & forks: Canyon Aeroad CF 2011 53" (Small)
Front + Rear Derailleur: Shimano Dura Ace
Shifters: Shimano Dura Ace
Cassette: Shimano Dura Ace
Brakes: Shimano Dura Ace
Hubs: Front: Tune, Rear: Powertap G3 (Updated)
Rims: Rail 52's (laced to the above hubs by the good chaps at
http://www.stradawheels.co.uk
)
Tyres: Continental Grand Prix 4000
Cranks: Shimano Dura Ace - 172.5mm
Chainrings: 50/34
Rear cassette: Dura Ace 12/27
Chain Catcher: Canyon custom
Stem: 3T Black Stealth - 110mm
Handlebar: 3T Ergonova Team Carbon Handlebar (Black Series)
Garmin mount: K Edge
Saddle: Specialized BG Romin Expert
Seat post: Canyon VCLS Aero
Pedals - Speedplay Zero Ti
---
Original post:
All ready for the Alpe D'Heuz Tri on the 24th July which should be a cracking day out in the mountains. I bought the frame back in late 2011 and spend the early winter of the same year putting it all together.
It all makes for a wonderfully smooth and subtle ride.