Forum home
›
Stolen & found bikes
›
Road stolen
Giant Escape 1 stolen from Guthlaxton college under CCTV cam
Rad1o
Posts: 2
My daughters Giant Escape 1 in white with a small frame was stolen at Guthlaxton college in Wigston, Leicestershire, last friday around 11.00h. It is all on CCTV, unfortunately only with hooded thieves so far.
Two guys cycled into the college to the bike sheds and homed straight in on my daughter's bike. They got the bolt cutters out and the cable lock was history. One guy left his old bike behind and cacled away with the "new" bike.
I had just got the bike ready for her to cycle to school in the dark and dirt. I have put
black mudguards
on front and back, a
dynamo
with
dynamo lights and a standing LED light at the rack
. The bike has also got a
silver side stand
at the rear stay. There are
lots of extra reflectors
all over the bike and
spoke reflectors
physcally glued to some spokes.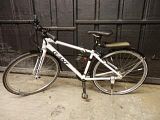 This picture shows the bike with a rack that I have replaced. The rack, dynamo, and rear light are on the next pictures.