Forum home
›
Road cycling forum
›
U.K. or U.S. market helmets - which offer best protection?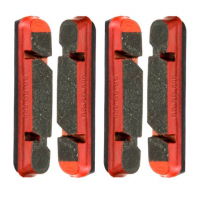 neeb
Posts: 4,448
Most people probably aren't aware that the same brand and model of helmet sold in the U.K. and in the U.S. is often a different product. The big manufacturers actually make different helmets to conform to the U.S. CPSC standard and the European EN1078 standard. They look identical, but the U.S. versions are usually slightly heavier and made to absorb slightly greater impact forces, at the possible expense of not being as good at absorbing smaller impact forces.

I read about this somewhere (Cyclist magazine I think) and was able to confirm it myself as I had two Bell Gage helmets in Medium, one bought from a U.K. retailer and another from the U.S. The U.K. one weighs 221g and the size label on the inside actually says "221g" too. My U.S. Gage in the same size weighed 240g and the size label inside said "244g". The fact that the labels state the weights shows that this isn't just individual variation.

Anyway, I crashed in the U.S. one recently and cracked it, so it did its job. I'm looking at replacing it and am tempted to go for a U.S. one again, but it would be good to know if there is any data about the relative safety benefits of the Euro and U.S. standards.

On the face of it, you would think that the stricter U.S. standard would be better, but I also read an article in the U.S. Bicycling magazine suggesting that the CPSC standard might actually mean that U.S. helmets are "over engineered", and that because they are designed not to crack until greater force is applied, don't offer as good protection against concussion, which is the most likely head injury you are going to have in a cycling accident. That said, I only had very mild concussion when I cracked my U.S. Bell Gage (mild headache for 2 days and no other symptoms), so based on that it's tempting to get a U.S. model again to provide more protection against bigger impacts.

It's just about as easy for me to buy online from the U.K. or from the U.S. on ebay and the net price is not very different, given that the U.S. prices are cheaper but then VAT is added on import.