Forum home
›
Mountain biking forum
›
Your mountain bikes
Canyon Nerve AM
russyh
Posts: 1,375
Well, thought it was about time i started a new thread regarding my Nerve AM.
I bought her a few weeks back as I wanted a bike with slightly more travel and a slightly slacker head angle to my my old XC bike. Here she is in Vanilla form (apart from my reverb), a Standard Nerve AM 5.0.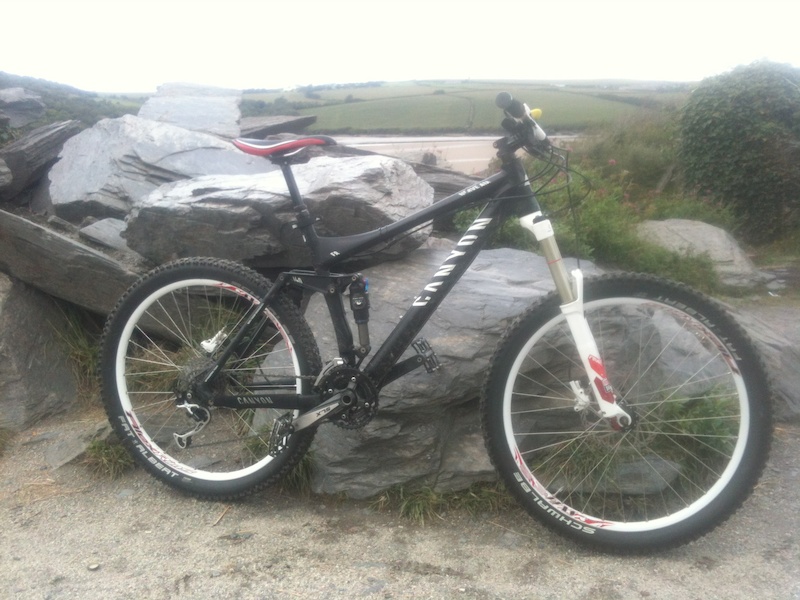 Over the last few weeks i have been collecting a few bits to get me to where i am at with it today, I have changed the forks from Revelations to Fox 32's with 15mm QR (better in black as well) Wheels upgraded to Hope Pro2's laced onto mavic XM317's running tubeless and Spesh Purgotory 2.35 tyres, cassette and chain were knackered so upgraded to XT cassette, changed triple set to Hope Bash guard with double upfront with a Superstars Bottom Bracket, Hope jockey wheels added, reverb dropper with Charge Scoop saddle, Bars changed to Chrom Easton Havens, superstars Grips, Hope M4 brakes blinged up with titanium andosied gold bolts.
Fair few more bits to sort out, but she is ride-able and will be at FOD Enduro tomorrow. Next job is to sort out the hoses on the brakes as they are currently far too long, then some new pedals, stem and Bionicon chain device.
Here is how she looks currently excuse the photo i couldn't find the camera so had to use my phone: