Forum home
›
Road cycling forum
›
Your road bikes
Dolan Hercules SE: Retro-style budget build.
dolan_driver
Posts: 831
Frame: Dolan Hercules SE, carbon
Forks: Dolan, carbon with aluminium steerer tube
Bars: BBB Inca carbon-wrap, 44cm
Stem: BBB carbon-wrap, 130mm
Headset: Alpina
Bar Tape: Deda Bianchi green (soon to replaced by black tape)
Front Brake Lever: Shimano Ultegra 6600
Front Caliper: Shimano Ultegra 6600
Rear Brake Lever: Shimano Ultegra 6600
Rear Caliper: Shimano Ultegra 6600
Brake Blocks: Kool Stop Dura 1 Salmon
Shifters: Shimano Ultegra 6600
Cables: Alligator sealed
Front Mech: Shimano Ultegra 6600
Rear Mech: Shimano Ultegra 6600
Seat: Selle Italia X2 (likely to be replaced soon)
Seat Post: Syntace P6 Hi-Flex carbon 31.6mm
Seat Post Clamp: Dolan, but not 100% sure, to be honest
Cranks: FSA Carbon Pro 172.5mm (circa 2005?)
Chainring(s): 53-39
Chain: Don't know!
Cassette: Shimano Ultegra 11-28
Pedals: Look Keo Max2 "Alberto Contador" signature limited edition (not limited enough, some might say)
Bottom Bracket: Shimano Ultegra 6600
Front Wheel: Yes, it has one
Rim: H plus Son TB14 23mm anodised grey
Spokes: DT Swiss double-butted stainless steel
Hub: Quando, sealed bearings
Skewer: Mavic
Tube: Schwalbe
Tire: Schwalbe Durano 25mm
Back Wheel: Yep
Rim: H plus Son TB14 23mm anodised grey
Spokes: DT Swiss double-butted stainless steel
Hub: Quando, sealed bearings
Skewer: Mavic
Tube: Schwalbe
Tire: Schwalbe Durano 25mm
Accessories: BBB alloy bottle cages, Cateye Velo Wireless + computer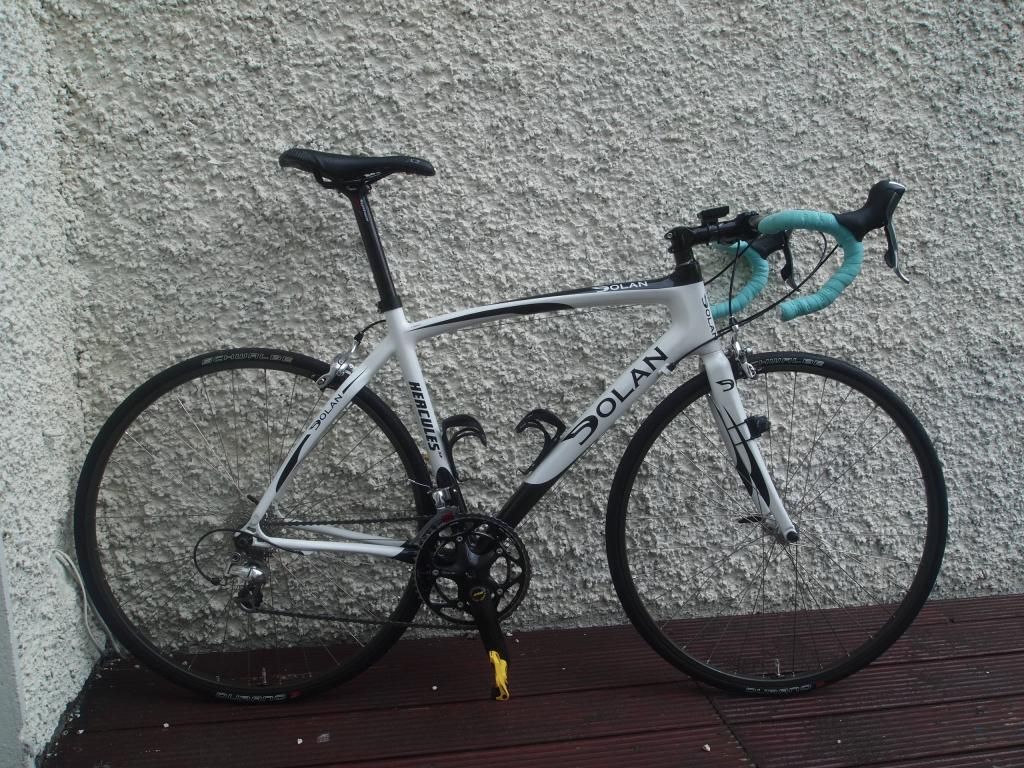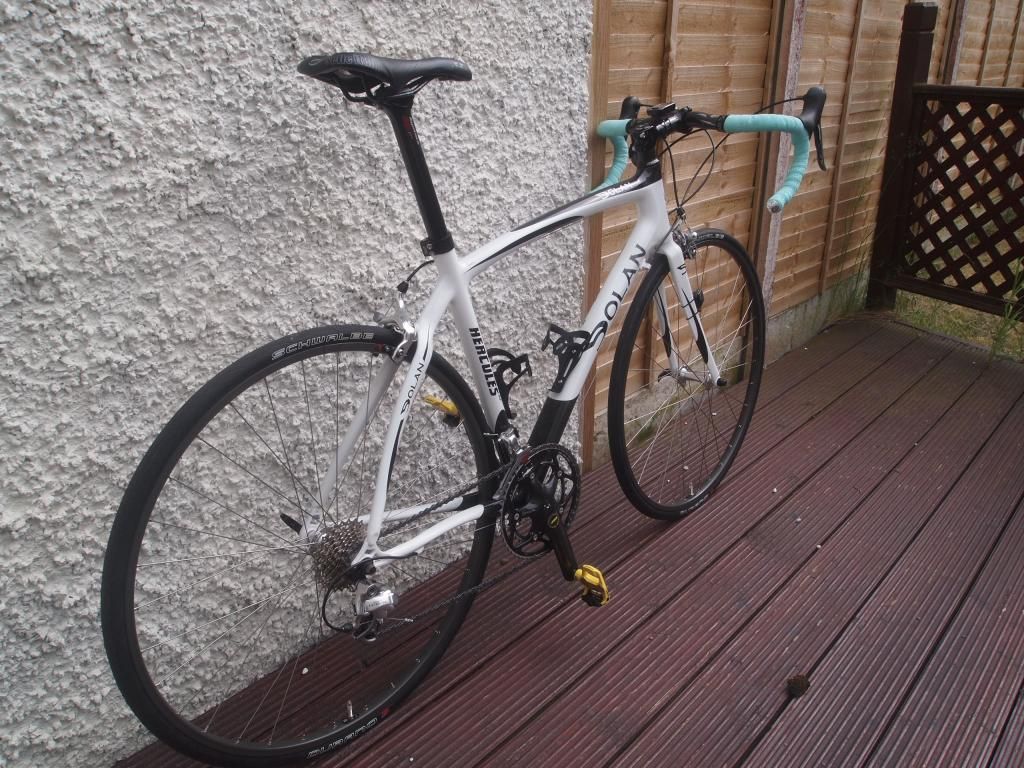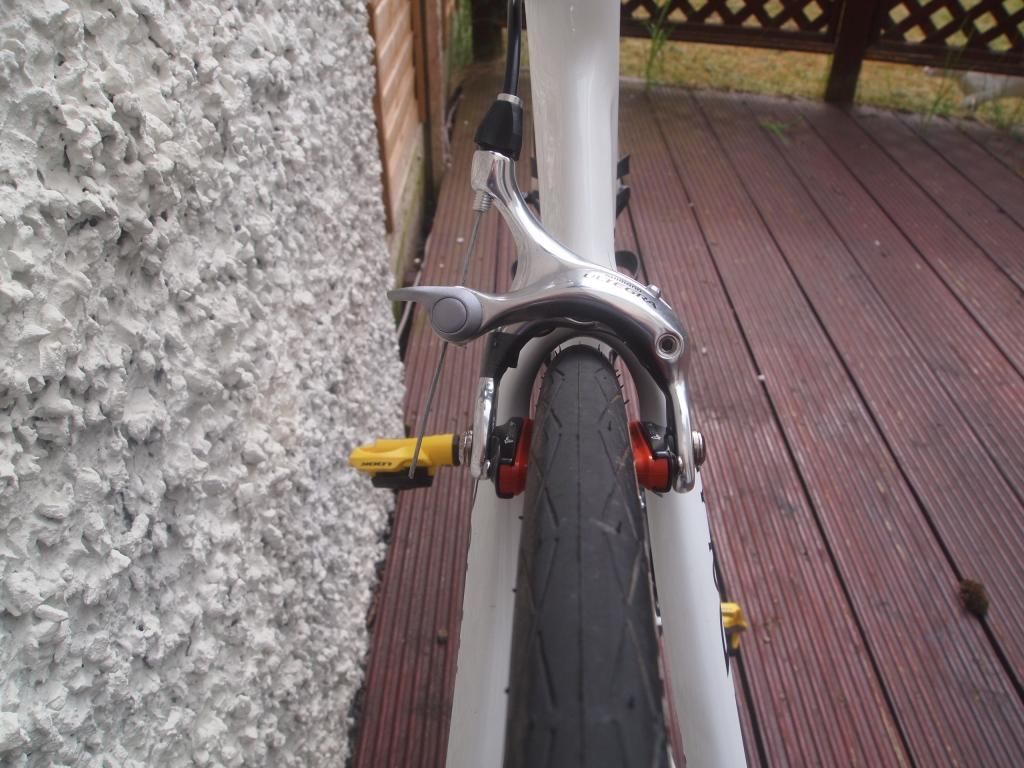 Here is the result of a very lengthy build of a Dolan Hercules SE frame and fork set. I can't actually remember when I got the frame. It could have been 2008 or 2009, around about the time I decided I wanted to get back on the bike and get a little fitness back. My initial focus was on getting a training/winter bike on the road. I was riding on and off over the last few years because of sore knees and a back problem. The body seems to be holding up pretty well of late so I knuckled down and finished off building this bike. I hope to use the bike for summer spins and charity rides/sportives. Having only ever owned and ridden steel and aluminium bikes previously, I am a little late arriving at the carbon party!
Even though this bike only hit the road today for the very first time, pretty much every single component on it is obsolete! Three factors influenced the final spec on this bike;
1. A relatively modest budget.
2. A requirement for maximum comfort.
3. The desire to have a "classic" looking bike.
Overall, I'm very happy with how it turned out. The bike is a collection of parts from numerous manufacturers and this may not be to everyone's taste. The last time I put a bike together, in 1994, this was how we built them, collecting new and second-hand parts here and there, to get a functional race bike suitable for Irish roads. There was no point splashing out on a flashy race bike that was only going to be run on rutted and broken tarmac much of the time. Old habits are hard to break and so this bike is a bit of mongrel!
The group set is largely based on Shimano 6600 componentry and the STI levers add to the classic look. The brakes are impressive although I'd say the Kool Stop brake blocks have a lot to do with that. Shifting is a bit sharper than that on my 105-equipped training bike.
To get the comfort level I want, I went for a Syntace P6 Hi-Flex seat post. The reviews for this post seemed to promise a lot. I think it is primarily aimed at the mountain bike boys (and girls) but I saw no reason why it wouldn't work on a road bike. I did 20 kilometres on the bike this evening and it does work very well. You can't feel the post flex back and forth, even though that is what it is actually doing! At one point, I hit a deep seam in the tarmac and the bump was transmitted up through the handlebars as expected. When the rear wheel crossed the same bump, I'd say less than 50% of the force that came through the bars made it to the saddle. That's literally how it feels! It's a very expensive seat post but it seems to deliver on everything it promises.
To round things off, I searched for a set of rims that mimicked the classic look of the Ambrosio Nemesis/Mavic GP4 box-section rim, but in tyre-and-tube format. There aren't many such rims out there but I did discover the TB14 rim from H plus Son, a Chinese manufacturer. They even come with the valve hole brass weight, just like the Nemesis. There are no decals on these rims. The only reference to the manufacturer is the tiny writing on the brass weight. Spokes are DT Swiss double-butted stainless steel on sealed Quanda hubs. The guys at the bike shop where the wheels were built recommended these hubs and given that this bike won't do huge mileage, they should suffice. The rims are 23mm wide and initially I was going to run 23mm tyres as well but I decided to go up to 25mm for the added comfort and, apparently, the improved rolling resistance over rough roads. At least that seems to be the thinking behind their use by some of the pros. The Schwalbe Durano is fairly puncture resistant, by all accounts, so hopefully they will serve me well. So basically, I ended up with a set of wheels that wouldn't have looked out of place on a racing bike from thirty years ago. To many, they might look out of place on a relatively modern bike, but I love the look of this type of wheel. Spokes that twinkle in the sunlight are where it's at. Always will be!
The green handlebar tape will be replaced by black tape soon. I made a balls of putting this tape on and it is already looking a little dirty after one short spin. Looking at the photos, I am not so sure that this frame is the correct size for me. It looks a touch small. It doesn't feel as small as it looks, though, and the saddle height is actually exaggerated by the photos.
Thanks for wading through my lengthy explanation behind this bike. Please go easy with your assessment of my modest stead.
Dolan Driver (finally).