Forum home
›
Mountain biking forum
›
Your mountain bikes
Specialized Hardrock singlespeed commuter spare parts bike
blazingmonga
Posts: 97
Hi all!
I wanted to ride to work some days this year to help with my fitness, and so I set about making a commuter bike with my old Hardrock frame and as many old bits and pieces I could find in the shed.
I decided to go for a singlespeed built for simplicity and because I didn't have any useable drivetrain to install despite having loads of other bits. In the end the only things I bought were the singlespeed kit and some brake cables.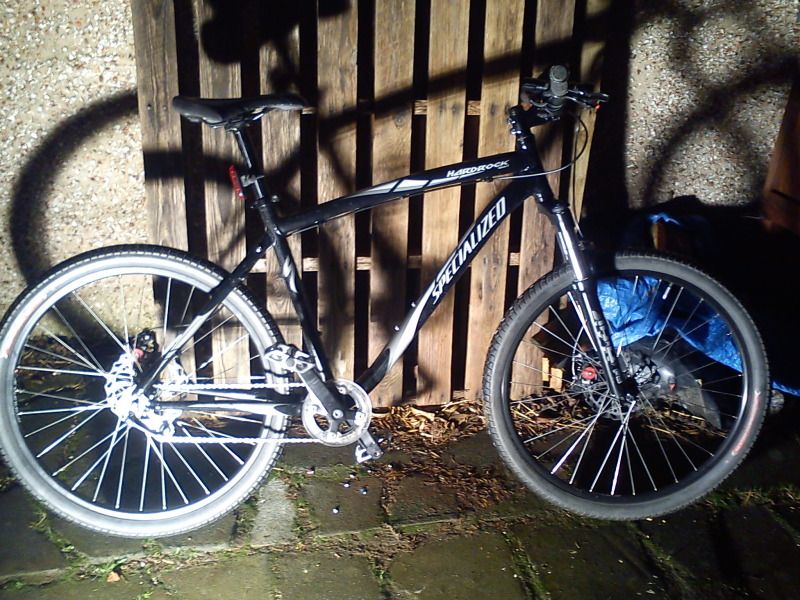 (apologies for the spooky photo...!)
Specialized Hardrock Sport Disc 2009 19"
DMR V8 pedals
SR Suntour octalink cranks with 32t chainring
Superstar singlespeed tensioner and 16t sprocket
Old cruddy 9-speed chain (was tempted by a singlespeed chain but quite liked keeping the 9-speed chain as I have lots of spare links and powerlinks)
Rockshox Tora 302 Solo Air
Avid BB5 brakes with Speed Dial levers
It is surprisingly fast too! Really takes off around town.