Forum home
›
Mountain biking forum
›
Your mountain bikes
My ever faithful & evolving Saracen hardtail
Corners R Us
Posts: 214
So I've been into cycling both road & mtbs since I was a lad. My current bike is an ever evolving affair and a mix of new bits from this winters makeover and older stuff bought second hand or new as things have worn out/broken. I've probably had over 70 bikes over the years as I used to buy and sell them for fun and this one just stayed with me!
Current spec:
Frame: 10-yr old+ Saracen TuffTrax 6061 hardtail. Its stood some right old abuse over the years and never once complained! Could probably do with a respray but it'd only get scratched again so probably wont! FSA Pig headset - could do with some new bearings probably but still reasonably smooth. Shimano BB.
Wheels set: Joytech hubs, never been apart and still surprisingly smooth despite regular winter use. Deep v-section alloy rims (v-brake and disc compatible) with 22 spokes. Never been trued and still straight! £80 on offer about 8-years ago from some bike shop! Some unbranded 2.1 front tyre and a Specialized Evil Twin 2.2 on the rear.
Forks: Rock Shoc XC30 with lockout. £90 from Merlin Cycles recently; what a difference they made as previous RSTs were finit!
Drivetrain: Old retro Shimano XT cranks with 22/32 2 rings setup. Shimano LX front and rear mechs, 8 speed Sram cassette (2 weeks old), Clarke PFTE chain in red for fun! New Shimano Rapidfire shifters (3-wks old). Shimano 525 pedals.
Controls: 25.4 Kore bars. Some unbranded 120mm stem (soon to be replaced with a 60mm item). USE suspension seatpost. £70 back in the day and a nice bit of kit. SMP anatomical saddle, very comfy but I've twisted the nose on a hardish landing recently. Brakes are Hayes MX1 mechanical calipers, Hayes 160mmm rotors and old Shimano XT levers operating them.
I have a hankering to build a trick full susser but will always keep this bike even if its just as a winter hack.
My other fav toy:
2006 Ducati Multistrada 1000 S DS. Ohlins front & rear shocks. Marchesini forged alloy wheels. Continental Road Attack tyres. Ducati Performance carbon everywhere! Full DP luggage (top box and panniers, currently not on it). Heated grips, handguards with LED running lights. Brembo calipers. STM slipper clutch (£1200 extra!). Ducati Performance gel comfort seats. Ducati PErformance flip touring screen. Termigoni carbon pipes with ECU chip. This things a right old hoot and will lift its front wheel without too much provocation!Oh and it makes a lovely v-twin noise to boot! Best bike I've had to date and I've had a few! Currently hinernating int he garage until fairer weather arrives as its a reet censored to cleanse; sooooooooooooo many nooks and crannies!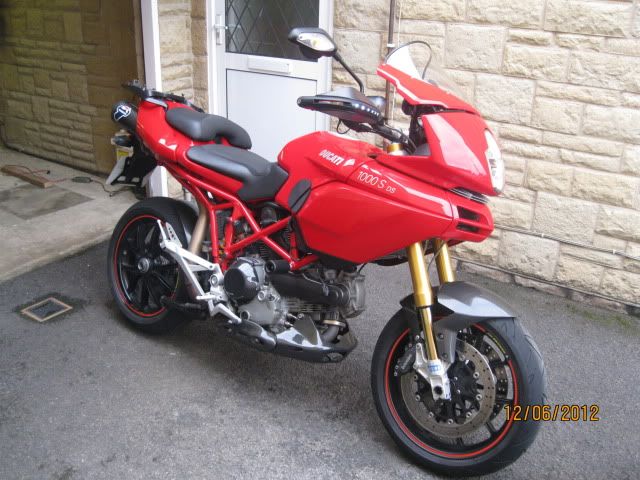 Anyways enuf of my ramblings. Happy biking be it leg or engine powered!
Corners