Forum home
›
Road cycling forum
›
Your road bikes
2012 Scott CR1 Comp (photos added 260512)
tommo7567
Posts: 95
Hi all,
Last summer I got back into proper road cycling following a 20 odd year break. My last bike was a Peugeot Equipe (must be a classic by now) when I was 14. I've owned a Trek 7100 FX hybrid for about 8-9 years and its still going strong for commuting. Last summer I bought a Carrera TdF ltd edition and quickly moved onto a Specialized Secteur Sport triple in November.
Having spent the last few months umming and ahhing over buying something better, I finally settled on a Scott CR1 Comp today courtesy of my LBS Chaingang Cycles of Hereford.
Its on order and should be in my sticky mitts in a few days, so I'm looking forward to posting some photos up as soon as I can. Till then heres the standard spec:
Frame: Scott CR1 Carbon
Forks: Scott CR1 HMF NET, 1 1/8" Carbon steerer, Integrated Carbon Dropout
Bars: Scott Road Pilot Pro OS, Anatomic 31.8 mm
Stem: Scott Road Pilot Pro OS, 1 1/8"
Headset: Ritchey
Bar Tape:
Front Brake Lever:
Front Caliper: Shimano Tiagra, Super SLR Dual pivot
Rear Brake Lever:
Rear Caliper: Shimano Tiagra, Super SLR Dual pivot
Shifters: Shimano Tiagra ST-4600, Dual control, 20 Speed
Cables:
Front Mech: Shimano Tiagra FD-4600
Rear Mech: Shimano Tiagra, RD-4600
Seat: Scott Road Pro
Seat Post: Scott Carbon/AL, 31.6/300mm
Seat Post Clamp:
Cranks:
Chainring(s): Shimano Tiagra 10 Speed, FC-4650, 50 x 34 T
Chain: Shimano Tiagra CN-4600
Cassette: Shimano Tiagra CS-4600, 12-30 T
Pedals: Shimano 105
Bottom Bracket: Shimano BB - 4600
Front Wheel:
Rim: Alex Race 28 Aero Profile, 20 Front
Spokes: CN - Aero, black 2 mm
Hub: Scott Pro 20 H
Tube:
Tire: Continental Ultra Race 700 x 23 C
Back Wheel:
Rim: Alex Race 28 Aero Profile, 24 Rear
Spokes: CN - Aero, black 2 mm
Hub: Scott Pro 24 H
Tube:
Tire: Continental Ultra Race 700 x 23 C
Accessories: Elite Custom Race bottle cage x2. Garmin Edge 200
Weight: 8.32 kg / 18.33 lbs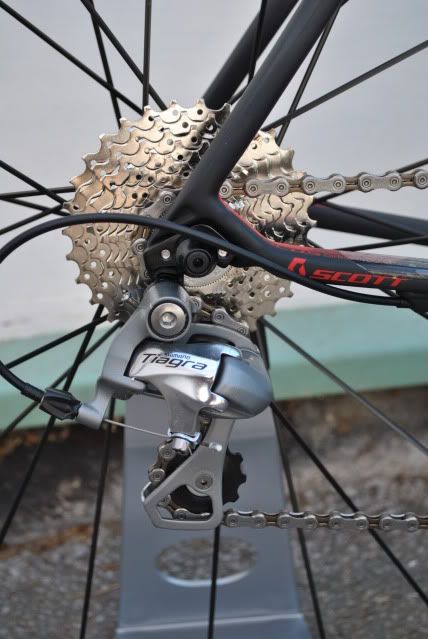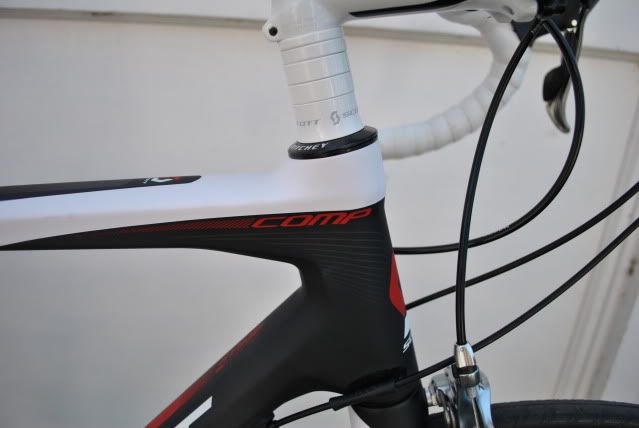 Tommo