Forum home
›
Stolen & found bikes
›
MTB stolen
Stolen: Revolution Cadence Disc (Edinburgh)

majormantra
Posts: 2,094
My friend had her bike stolen in Edinburgh on Tuesday (17/4/2012) evening. She's a poverty stricken student and this is her main mode of transport, so if anyone spots it we'd very much appreciate a heads up. Here are the details she gave me:
revolution cadence disc in navy.
ladies (dropped top tube)
schwalbe marathon tyres, purple caps on the valves that are supposed to light up but are dead.
topeak rack on the back (pretty new)
censored mountain bike mudguards, front one a bit broken, back one falls down and rubs the tyre sometimes.
one light permanently attached on the front left handle bar, 3 other light mounts (front right handle bar, under the saddle and the back of the rack)
the handle bar end cap on the right has degraded off
the casette was in a state and so was the chain
the back disc brake was about 6 months old and bought off the net so the chances that they buy a matching one for the front are pretty slim (so they might be odd)
it was at least 5 years old
I dont know the exact size of the frame but it was a teeny bit small for me [my guess would be 16" but it might be smaller - Matthew]
photo below before it got it's rack, bottle cage and pump holder fitted.
the front suspension is super seized and quite rusty now compared to the photo.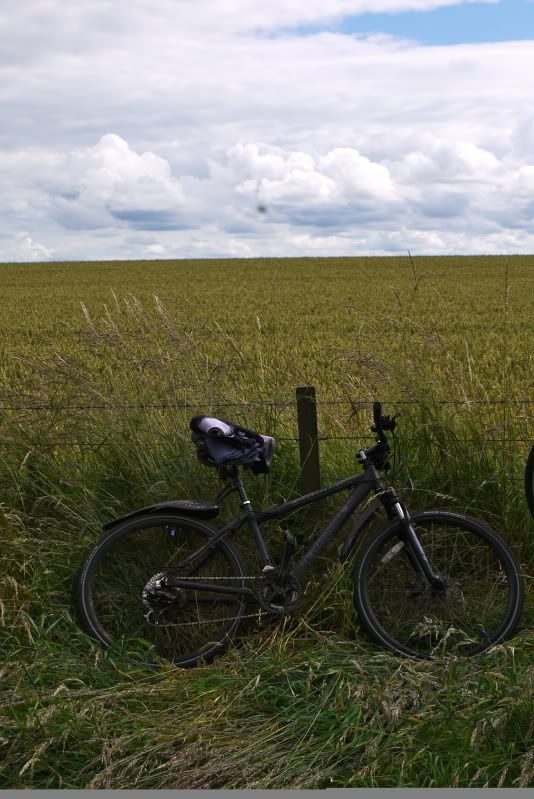 If you spot it could you please call or text either:
Me (Matthew) - 0 SEVEN 964330859 or Sarah (0 SEVEN 971945334)
Cheers!
Matthew