Forum home
›
Mountain biking forum
›
Your mountain bikes
Santa Cruz Chameleon
High-Tower
Posts: 25
To go with the pics of my other steed here are a few pics of my Chameleon. After I clumsily broke my old FSRXC and the boss gave me permission to buy a Heckler, I got to wondering what to do with all the bits still bolted to the old frame.
So an eBay quest began. I really fancied building an old US made Zaskar, lovely bomb proof old things that they are. But the prices for them were scary, and to do it justice it would have to be a full retro build. Which didn't suit my non retro budget, nor my intended use for the bike. So a broader eBay search turned up a Santa Cruz Chameleon frame, in the needed XL.
Having another Santa Cruz made sense, the geometry was as close as I was going to get, and they're a great, tough frame, which is important for a 16 stone rider whose ambition is often higher than my ability.
And Santa Cruz do fit bottle openers to their dropouts, so the decision was almost made. A bit of negotiation with the seller got him down from his 'buy it now' price to one I was happy with.
Most of the parts were swapped out from the much upgraded Spesh, so it's got
A Chris King headset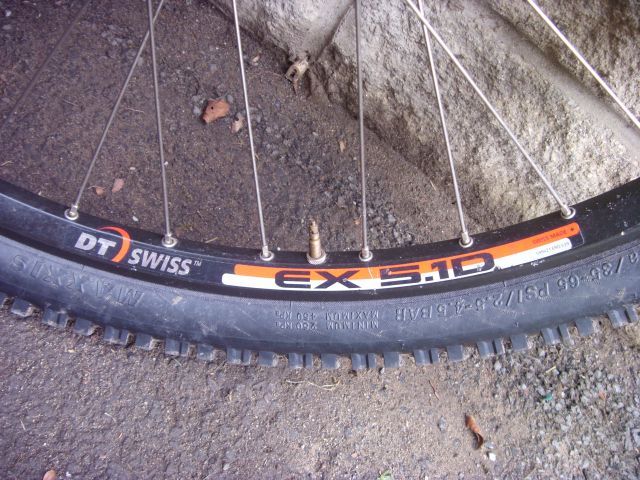 Hope Pro2s on DTEX5.10s with essential DT spokes. Derailleurs are XT rear with a Deore up front that's due a change with a simple Deore chainset. The brakes are Avid Juicy 3's which, serviced and fitted with new pistons/seals/fluid and 203/185 rotors still provide plenty of power. And the finishing kit is mostly Specialized's boggo stuff, but with a Thompson seatpost.
Originally I fitted a pair of 100mm Rockshox Recons that, frankly, made it handle like a shopping trolley. They got changed to a pair of 150mm Revelations that were liberated from my Heckler when that grew a new pair of forks.
All of which has given me a wallet friendly ride, which is way different in character to the Heckler and is ideal for rides out with the wife, or for days when I'm covering longer distances on steadier trails. Or just for when I fancy getting back to basics and not being spoilt by an FS bike.
Courage is doing what you're afraid to do. There can be no courage unless you're scared - Rickenbacker.