Forum home
›
Mountain biking forum
›
Events, competitions and races
›
XC and Enduro
Dusky Valleys 12 is back for 2012
parcbrynbachcycling
Posts: 2
Hey Everyone,
A few of you may have taken part in our 12 hour mountain bike race back in 2010. Sadly we could not hold the race last year, but here in 2012 its back and we hope to make it a great event! We are hoping to raise as much money as we can for The Hospice of the Valleys , so the more entries the more successful we will be.
What is it?
A 12 hour mountain bike endurance race running from 8
pm
to 8
am
. That's right, a chance to dust off your night riding lights after the summer and enjoy a relaxed and fun event with ALL proceeds going to charity.
When is it?
The race will start on Saturday 15th September, and will finish the next morning on Sunday 16th.
Where is it?
Bryn Bach Park is located in Tredegar, South Wales. It about 30 mins north of cardiff, and is just off the A465. A quick postcode check is NP22 3AY.
How much does it cost?
If you choose to take on the challenge solo it will cost you £25
If you want to pair up with a friend it will cost you £20 each
If you want a bit more rest and a team of 4 is your choice, that will cost you just £15 each!
Other bits of helpful info:
During the event there will be a battery charging facility to use free of charge and will be open all night. The visitor centre Cafe will be open all night serving coffee and snacks, and also providing a place to keep warm! Toilets and showers are available all night too. There will be a local bike shop with a stall during the race where you can pick up last minute spares and energy boosting nutrition, and a mechanic on site to help you out with emergency fixes to keep you going.
The course will pass along side a competitor only pit area where each rider/team can have a station/car/tent/gazeebo as a base.
*This is a race to generate money for charity, and to keep costs down the event will be manually timed. Unfortunately this means there will be no lap split times, although you will receive a final lap count and finish time*
There will be prizes for the top 3 finishers in each category, along with a T-shirt for every entrant!
ONLINE ENTRY WILL BE SET UP VERY SOON. DAY ENTRIES MAY BE AVAILABLE DEPENDANT ON EARLY ENTRIES
A link to our event facebook page is here
http://www.facebook.com/events/310438195686445/
We will keep this page updated frequently with any info we can.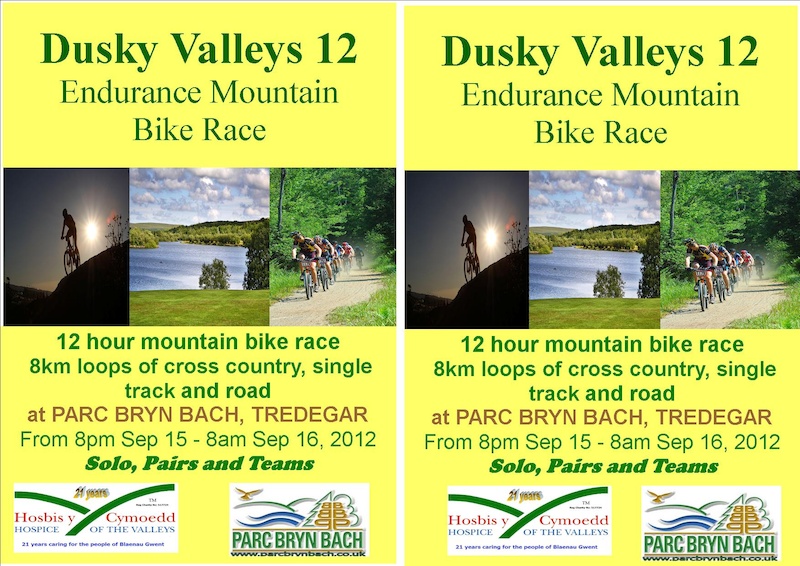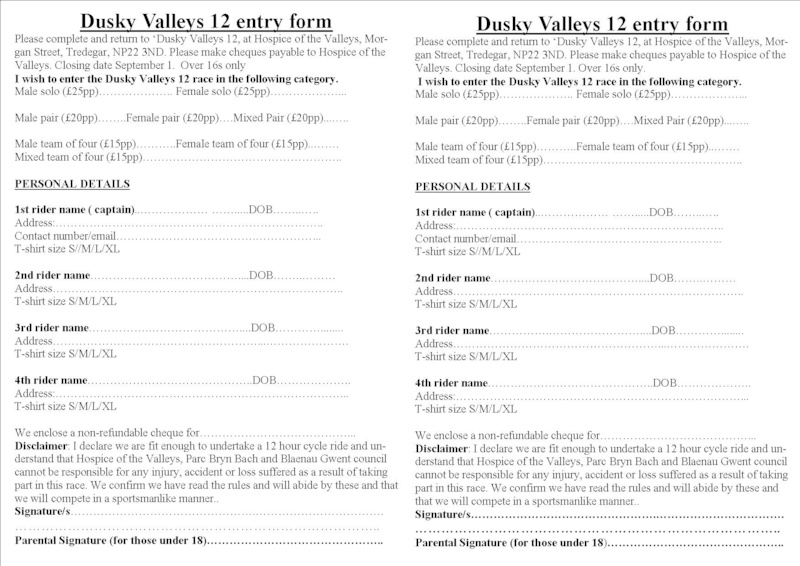 Thanks for reading and please get involved, it's a great event for a great cause!
Feel free to contact
[email protected]
for more information
The Park Bryn Bach Team