Forum home
›
Road cycling forum
›
Your road bikes
Felt F1 Sprint
Neil Buckley
Posts: 334
Its been up here before, but to mainly piss of Berk whatshisface if hes still about and to show off a few tweaks ready for 2012, heres my ex team F1 Sprint minus chain and pedals, let me know what you think! Felt really make a great bike as a lot of forumites will agree! Its certainly not a Ford Mondeo type of bike I can assure you!
Spec as follows..
Frameset
56cm Felt F1 Sprint frame.
Groupset
Dura Ace cableset
DA7900 levers
DA7900 Brakes with SwissStop Yellow King pads
DA7900 Front Mech with Chain catcher (Recommended!!)
DA7900 Rear Mech with CeramicSpeed jockey wheels
DA7900 Chainset – 53/39 172.5m
CeramicSpeed ROTOR Ceramic BB
DA 7900 11-23 Cassette
DA 7900 Prototype pedals - Once i've put em on!
DA 7900 Chain - Once i've put it on!
Steering/Saddle
3T Ergosum Team Handlebars
3T ARX 110mm Stem, Garmin edition
3T Dorico Garmin edition set back seatpost
Fizik Bar Tape
Elite bottle cages
Sella Italia SLR saddle (soon to be swapped out for a SLR Max Flow)
Wheelset
2010 Zipp 404 Tubulars, with CeramicSpeed bearings, Vittoria Corsa EVO tubs
Pics...Apologies for the pics, but theres not many white garage doors on a Army base, plus its dark and foggy out!
Enjoy!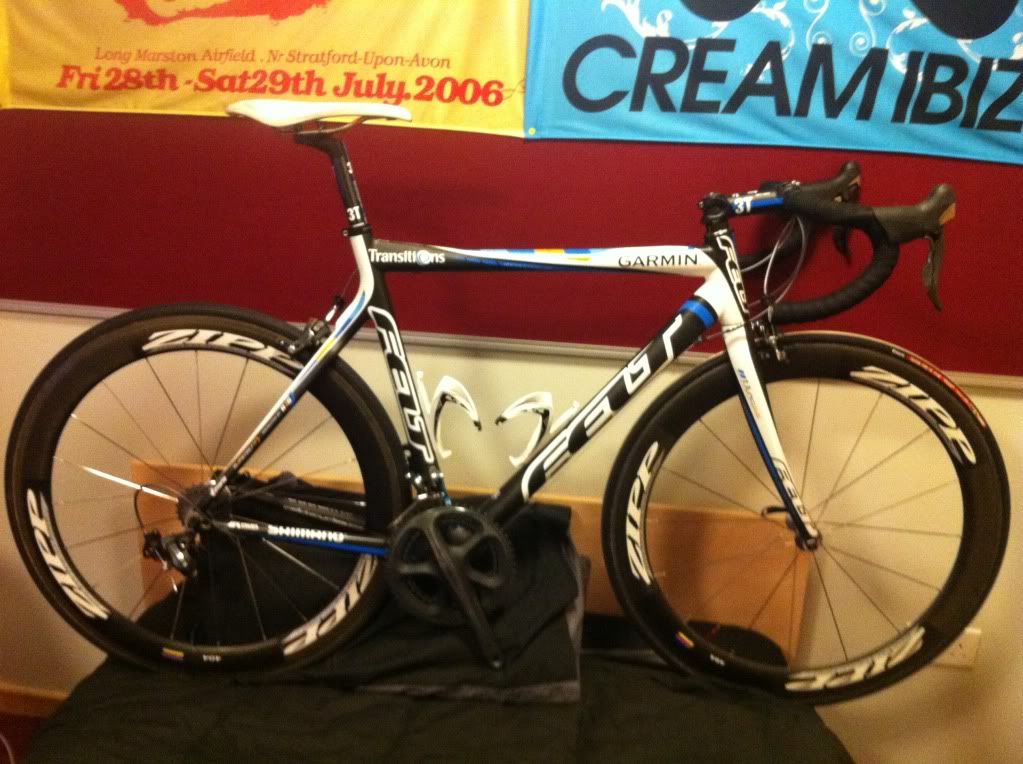 Helmand Province is such a nice place.....