Forum home
›
Road cycling forum
›
Your road bikes
My Retro ALAN
Bobbinogs
Posts: 4,841
Well, I posted a few threads in various parts of BR after I was kindly given an old ALAN by my mother in law when her husband sadly died on a club run last year. The general advice was to invest some time into getting the bike up and running and how right you all were!
I have generally overhauled it although, TBH, it just needed some TLC. Hence, some 2nd hand wheels (thanks to Velonutter), new chain, cassette, gear levers, cables, pedals, brake blocks/pads, handlebar tape, tyres, tubes, an old saddle and a lot of elbow grease...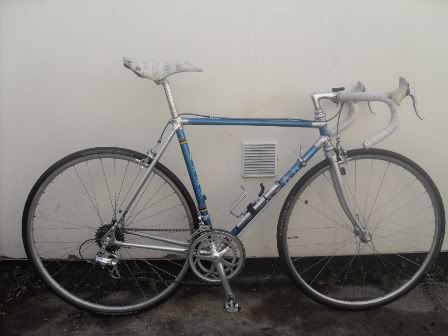 Funny thing is that, even though this is probably one size too small (as seen from the saddle height) it does actually fit perfect on the hoods when compared to my Spesh. My Spesh is fairly bling (RS80s and all that) but I nearly always pick the ALAN for special rides like audaxes. Also, I have noticed that whenever I ride the ALAN, I just seem to want to keep on going and I end up going out for ages and come home smiling. I guess my FIL knew a thing or two about bikes.
For those interested, I wrote to the chap who made the frame back in Italy and he confirmed it as mid 80's.