Forum home
›
Mountain biking forum
›
MTB beginners
Newbie saying hi. Also Small issue with breaks.
Fully-sprung
Posts: 670
First of all I'd like to say hello to everyone here on the forum, so hello everyone.
Secondly my story so far goes like this: I bought a mountain bike for an absolute give-away price, almost brand new at £50! I took it to the shop to get it checked over, fix the gears and upgrade the mechanical rear disk to a hydraulic one(total cost of breaks, gears, new rear derailiour(as I fell and bent it into the spokes
)and front and rear mudguards came to about £150). I've had the bike for a while and use it to get to school every day. Here is a picture of the bike in question: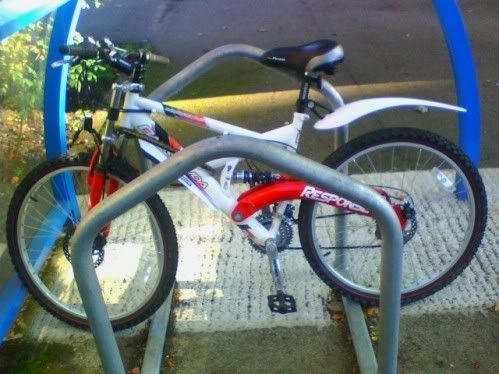 Excellent bike so far. And at a total cost of just over £200, I think it was a real bargain.
So:
The problem started after I cleaned my bike. Now the breaks are the next thing to useless. I think some of the dirt must have got on the disks, my question is what can I use to clean the disks? Can I use traffic film remover? Would washing up liquid work? If not is there anything you would recommend? :?: And What do you think of my bike? Sorry about the bar in the way, Just a quick photo I took at school a while ago.