Forum home
›
Road cycling forum
›
Amateur race
New Cycling Club for South Manchester/Cheshire
CYCLESPORT1
Posts: 471
Cyclesport International RT was formed in 1996 by the late Chris Knight and Jon Williams, in it's hay day the team promoted many cycle races and had quite a few members racing as well. After the untimely death of Chris the team tinkered on for a couple of years.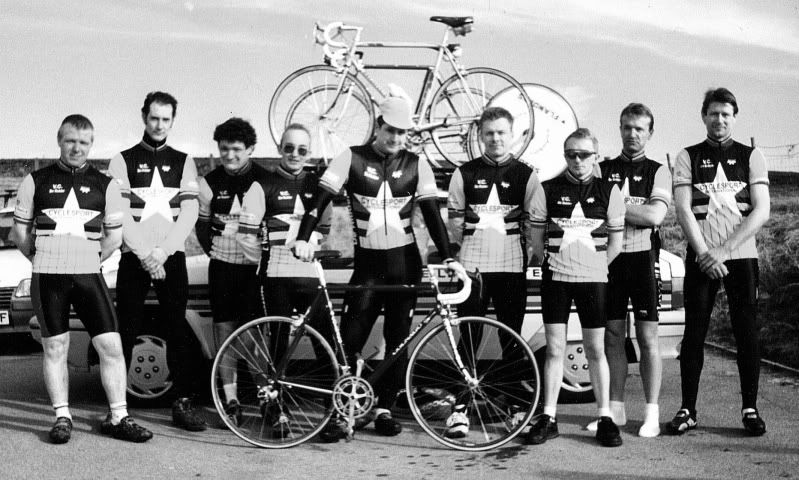 Cyclesport International's senior team of 1997
For 2011 the club will resurface and will simply be called "Cyclesport International" as we don't all race and many of today's cyclist have no intention of doing so, although the club will be actively seeking racing members, just as much as riders new to cycling
Who is the club aimed at ?
The club is aimed at any cyclist however much they ride. If you want to meet other fellow cyclists, gain new friends, and enjoy the sport the way it should be enjoyed, this is the club for you. You might ride once a week or everyday, it does not matter.
What area do we cover ?
The club will be based around the Wilmslow area as many riders from the Manchester area pass through Wilmslow, Alderley Edge on route to the Cheshire lanes, so anyone within riding distance of Wilmslow is most welcome.
The club has at least one British Cycling Level Two Coach
We would strongly advise all members to become members of either Cyclists Touring Club or British Cycling. There are many benefits to joining either organisation but membership of either will give the rider third party accident insurance and will help with legal action in the case of an accident. We request that members in the under 18 catagory be a member of Cyclists Touring Club or British Cycling.
Interested ? Contact
[email protected]
or visit our temp. website
http://cyclesportinternational.moonfruit.com/