Forum home
›
Mountain biking forum
›
Your mountain bikes
Stealth On One Carbon 456
ccc
Posts: 193
After my 09 Commencal Meta 5 decided to give up the ghost 4 weeks ago I decided to grab one of these as a replacement while I wait for the Commencal/Madison warranty saga.
After getting back from it's maiden voyage about half an hour ago I have to say it is probably the most fun I've had on a bike in years. It's so quick and responsive and the acceleration is awesome (I'm an unfit
[email protected]
so that's saying something).
It's not built up with the lightest components, and didn't feel that light when I first picked it up, but once in the saddle it's hugely noticeable how light it is. I'll break out the scales in a minute and post up the build weight.
I can't recommend this bike enough, it really is that much fun and I still haven't stopped grinning
Anyway, here it is: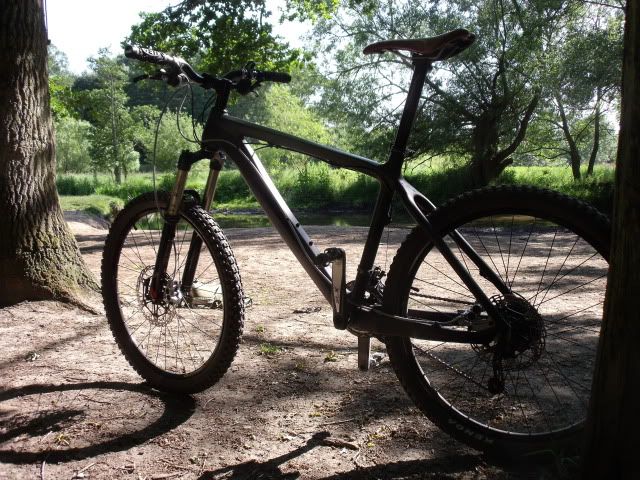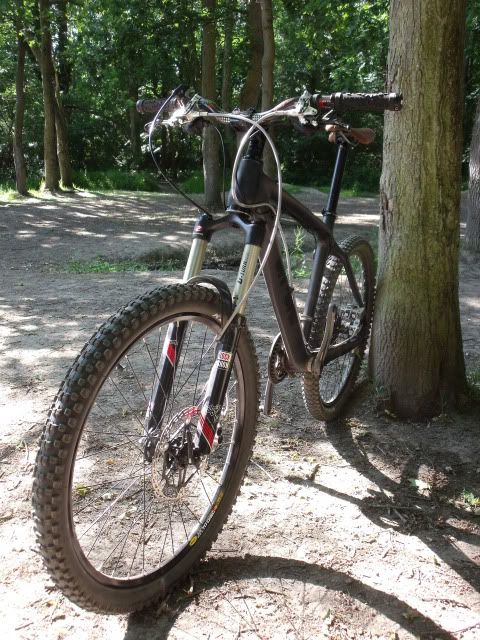 spec is:
Rock Shox Revelation 426 Dual Air U-turn
On One smoothie mixer headset
FSA K-force XC riser bar w/ODI Yeti lock on grips
Thomson 70mm stem and seat post w/ Hope seat clamp
Charge Spoon saddle
Hope Tech M4 w/braided hoses and 203 front and 180 rear floating rotor (soon to be 180 front and 160 rear)
SLX Chainset, front/rear mech and shifters
E13 Turbocharger with Blackspire stinger
Mavic 717's on XT hubs with XT skewers
Kenda Nevegal 2.35 F 2.1 R
Time Roc Atac/Superstar Nano tech flat pedals
[/i]
Eyes on the prize.