Forum home
›
Mountain biking forum
›
Your mountain bikes
Kona Blast Deluxe 2009. First proper bike and loving it.
Azure777
Posts: 3
[img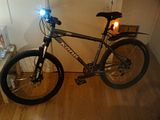 SPECS
• Frame tubing: Kona All-Mountain Aluminum Butted
• Rear Shock: N/a
• Fork: RockShox Dart 2 w/Turnkey 100mm
• Headset: TH
• Crankarms: FSA Alpha Drive
• Chainrings44/32/22
• B/B: FSA Powerdrive
• Pedals: Wellgo LU-A9 Changed to GT generic flat pin pedals from Halfords
• Chain: Shimano Deore
• Freewheel: Shimano Deore (11-32, 9spd
• Front Derailleur : Shimano Deore
• Rear Deraillieur : Shimano Deore
• Shifters: Shimano Deore
• Handlebar: Kona XC/BC Riser
• Stem: Kona XC/BC
• Grips: Kona Race Light
• Brakes: Shimano 486 Hydraulic Disc
• Brake Levers: Shimano 486 Hydraulic
• Front Hub : Formula Disc
• Rear Hub : Shimano M475 Disc
• Spokes : Stainless 14g
• Tires: Maxxis Ignitor 26x2.1
• Rims: Alex Ace-18
• Saddle: WTB Speed V Sport SE
• Seatpost: Kona XC/BC
• Seat clamp: Kona QR
Won't be much to many of you but I got a great deal on this brand new a couple of months back (£440 delivered built 18" frame) and I am really enjoying it. Having been riding a bike on and off for most of my life purely for utility, a guy at work talking about getting a new bike impulsively made me want to get one. I did a bit of research and chose the Kona based on good reviews, looks and a sweet price. Even I could tell it had really crappy pedals though, so changed them for some cheap £17 GT's from Halfords; which whilst very heavy are equally comfortable and grippy in all weather (so far).
I got my first mountain bike for Christmas at 13 but it was bottom of the range, weighed a ton and didn't catch my interest other than to get around on. Since then always had a crappy mountain bike but never cared what type or if it's old etc, even though I've often commuted by bike and generally used it a lot. All last summer I rode extensively on an 8 year old huge heavy junker Raleigh my brother had given me.
But this Kona, man it is so awesome I'm regretting never getting into actually having a decent bike sooner; the energy efficiency and fun factor is off the chart. I'm in my early 30's and in decent shape so I know I've still got years to enjoy biking, but I waited so long to get at least a half good one, I just didn't know what I was missing.
By the way, almost the same story with my workmate; he ended up getting a Specialized Rockhopper 2010 at full price; (£700, I got the better deal I.M.O) his old bike was a full suspension Apollo Creed piece of censored and he rode it a lot, heh.
Anyway, just simple trail riding is so awesome, almost impossible to describe how much better a good bike makes it. I live right near a huge park and can ride along a Thames towpath to work, so have lots of opportunities to use it. Definitely something I will not turn back from, always going to have a nice bike for as long as I can still ride one
I know to make this bike good or even passable by a lot of your standards would require extensive upgrades, but after the junkers I've been riding all my life, this current set up is just amazing to me.
Checking some of these other people's bikes out on this board, I can see how tempting it must be to build loads of incredible bikes and keep buying parts and all that, but that's a whole other level, I'm not sure my wallet's ready yet, heh.
[/img]