Forum home
›
Road cycling forum
›
Your road bikes
Raw Steel Project

Evil Laugh
Posts: 1,412
Finally finished this and was it's been well worth the wait.
I basically stripped an old steel frame then chose and sourced every part myself, which took a long time and involved lots of changing of the mind. But here it is, I have to attach the headbadge at some point.
I can't say I could be more pleased with how it's turned out, I'm chuffed to bits.
It looks like a lump of liquid metal. Somewhat futuristic, somewhat retro.
I stripped the frame myself and Armoutex clearcoated it. More on that in the orig post/thread.
Despite the deep section wheels and straight fork the ride is buttery smooth, not quite as nice as my Synapse but much better handling. There's a greater sense of connection to the front end of the bike so chucking it into corners is very pleasurable.
The DA groupset is awesome, much prefer it to the SRAM Red/Force on my other bike, slick as you like.
I chose the wheels as I wanted something resembling the old Campag Shamals and they are definitely interesting. They take a bit more to get going than my DA clinchers but once moving acceleration is great and they roll really nice. Getting out of the saddle is rewarding, I'm looking forward to trying the DA wheels on this bike, it feels very fast and stable.
Here's the pics, starting with the original frame.
Originals here
http://s690.photobucket.com/albums/vv26 ... 20project/
Some parts.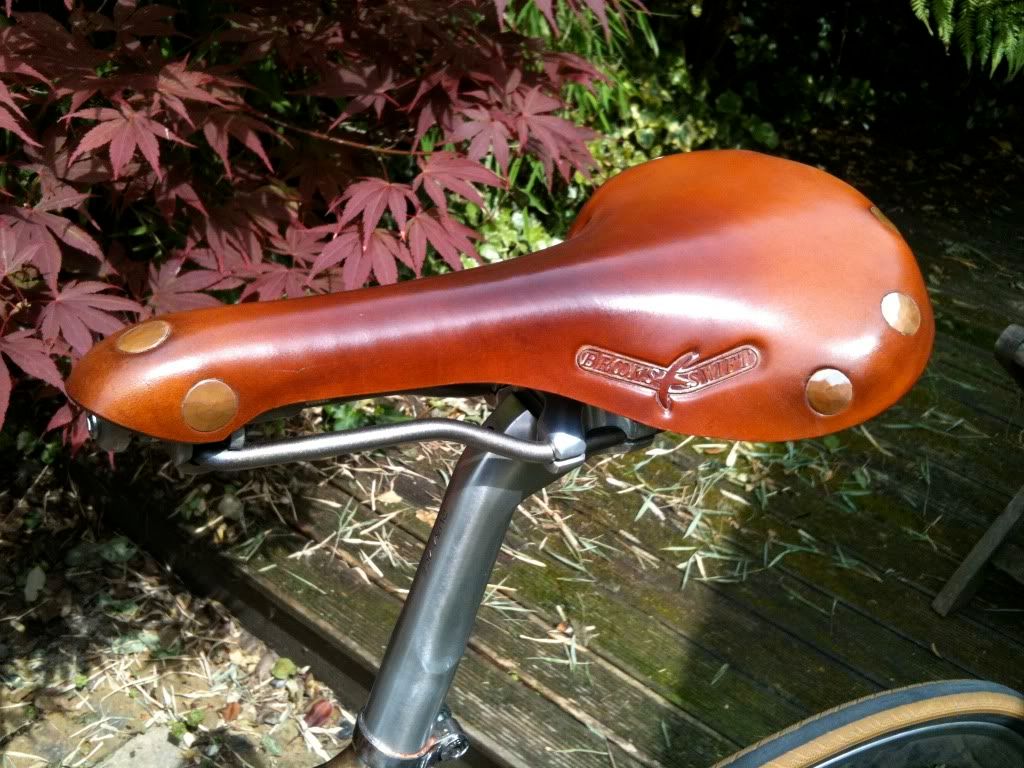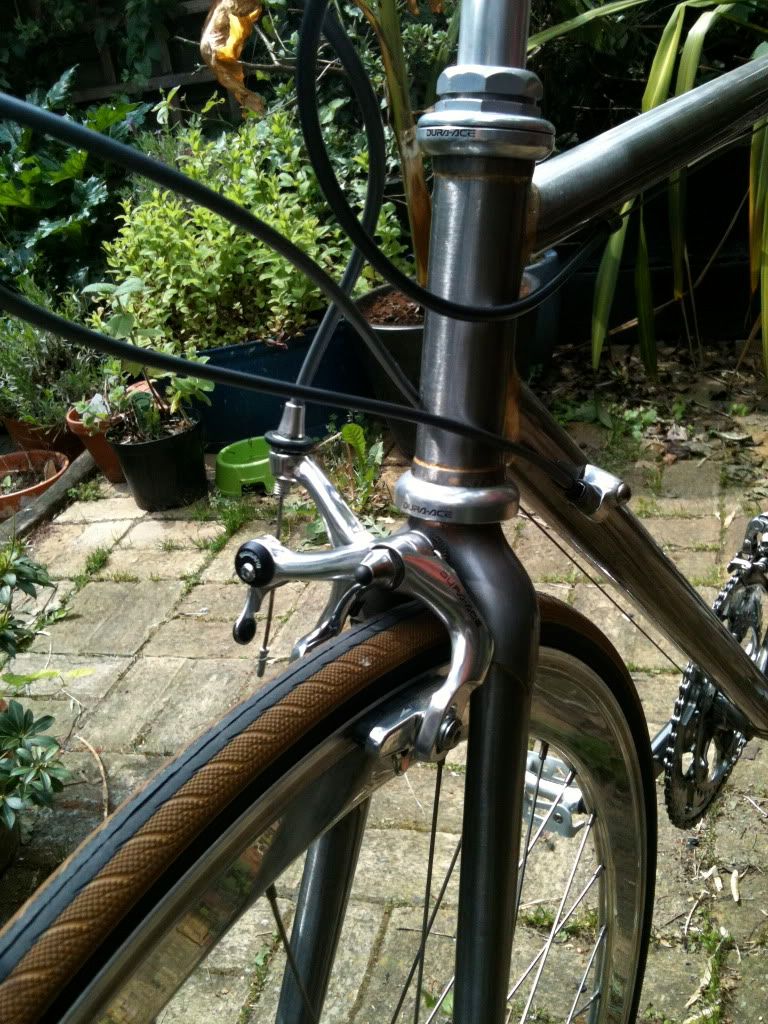 Here's some where I tried to capture the tarnishing and rainbow/oily type effects of the bare steel.
They occur wherever something has been welded onto the frame. There are some areas where rust has come through, like by the seatpost. Apparently these areas will evolve over time and more tarnishing will come through but I like it like that, it looks cool and will just blend in with the brown bits on the bike.
Spec.
Frame: Geoff Wiles badged Columbus Nemo, built by Mark Reilly / Omega
Forks: As frame
Bars: Nitto Noodle
Stem: Nitto Dynamic 11
Headset: Dura Ace 7410
Bar Tape: Fizik Microtex Antique
Front Brake Lever: Dura Ace 7800
Front Caliper: Dura Ace 7400
Rear Brake Lever: Dura Ace 7800
Rear Caliper: Dura Ace 7400
Shifters: Dura Ace 7800
Cables: Dura Ace 7800
Front Mech: Dura Ace 7800
Rear Mech: Dura Ace 7800
Seat: Brooks Swift Titanium, Honey, Trimmed.
Seat Post: Dura Ace 7400
Seat Post Clamp: Campagnolo
Cranks: Dura Ace 7800
Chainring(s): Dura Ace 7800 53/39
Chain: Dura Ace 7800
Cassette: Shimano 105 12-25
Pedals: Wellgo Track
Bottom Bracket: Shimano 105
Wheels:
Rim: H Plus Son sl42 Polished Alloy
Spokes: Sapim Laser
Hub: Ambrosio Zenith
Tube: Michelin Aircomp
Tire: Vittoria Rubino Pro 3, Honey
Accessories: FA
Weight: 8.4 kg
Original Post
This is a bit of a bike in progress. Didn't know whether to put it here or Workshop but plumped for this section.
Bought a NOS Columbus Nemo frame as a project to feed my bare steel frame lust or fascination. Supposedly really nice tubing.
It's a very light frame but the paintwork was particularly horrible.
Have stripped it down myself this weekend with nitromors and very fine steel wool and various other implements. Luckily the finish underneath was just the level of shine I wanted, a nice brushed look. I had planned on polishing the frame so that saved me some work.
I'm going to try and get it clearcoated tomorrow before it starts to tarnish. There's a few bits on it now but I like the character they add. There some nice dark rainbow/oily looking bits on the rear stays and on the top tube. Hope the clearcoat goes ok as I'm so pleased with it at the moment, it looks awesome, just what I wanted.
As far as build goes, I just ordered some Planet X model Bs to keep it as unbranded/logoless as possible.
I have black 105 mechs and brakes from my Synapse and a spare cassette. Hopefully my 105 shifters are being replaced with Ultegra sl under warranty so I'm gonna look for an sl chainset second hand to blend in with the frame colour. When I can be arsed I'll change the brakes and rear mech to sl too with a bit of ebay wheeling and dealing.
I'm struggling with the bar tape / saddle combo. Ideally I want the antique brown fizik microtex but I can't find a matching saddle anywhere. I understand fizik have made some aliantes and paves in that colour. If I can't find one I'll just go for white or black fizik bits or celeste even, I dunno.
If anyone has any Ultegra sl bits going, let me know!
Anyway ...here's some pics so far...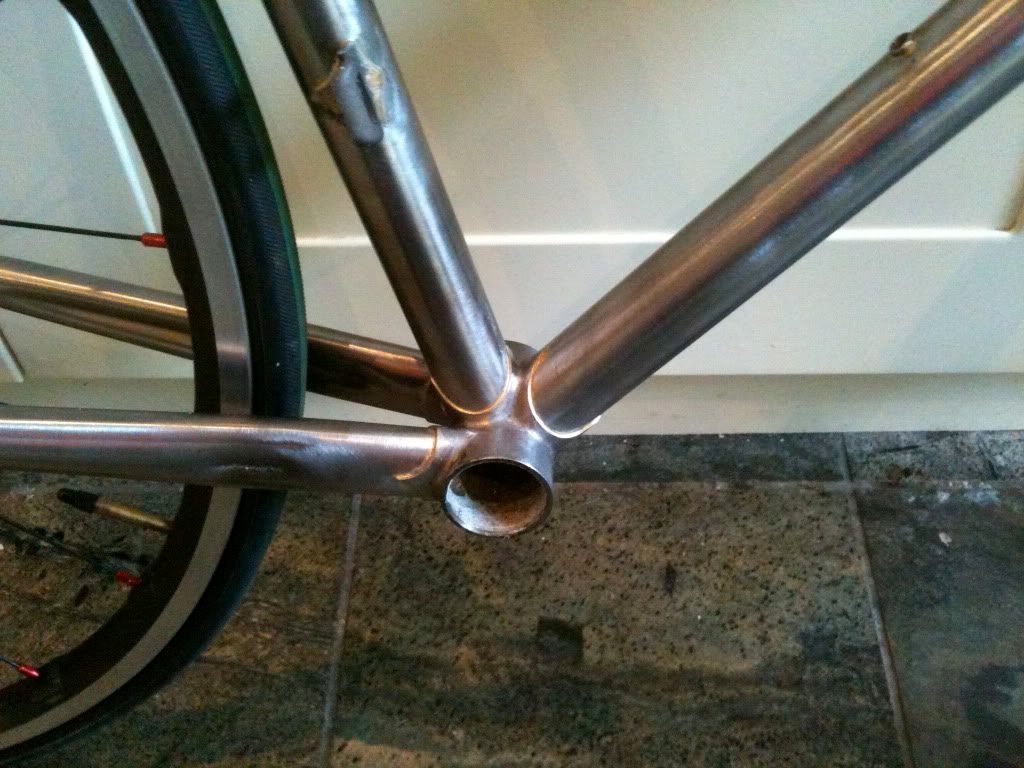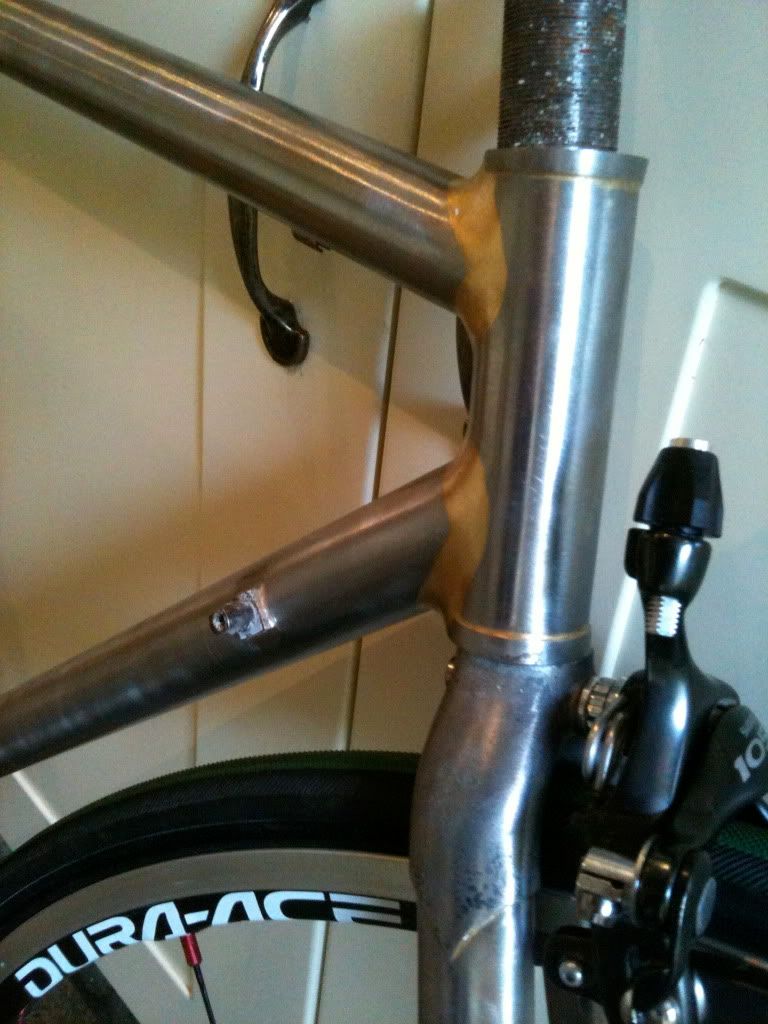 [/img]