Forum home
›
Mountain biking forum
›
Events, competitions and races
›
XC and Enduro
What's you climbing cadence!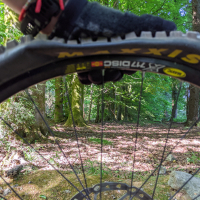 endurojcb
Posts: 167
Simple as that!

What sort of cadence do you peeps try to keep to when climbing? And I mean proper climbing, like at Cwmcarn or Whites Level (well that's proper climbing to me anyway).

I have no idea what my cadence is when I'm climbing. I just tend to try and keep my speed at 6+kmph on the above trails, but i have a feeling I'm in too high a gear. Middel cog at the front whenever possible with 2 or 3 big rings spare at the back! I guess that must put my cadence at around 60 rpm!?

I've seen riders (faster ones that me) mashing the pedals like crazy uphill, but only going a bit faster than me, but then I've seen them mashing like mad and totally annihilating me!

p.s My speedo doesn't have a cadence measurement, so it would be a case of me counting as I go, which I find makes the climbs a little easier!
2007 Merlin Malt 4