Forum home
›
Mountain biking forum
›
MTB general
My Ransom (almost) fell off my car.....Advice needed!
Kiwi Kranker
Posts: 416
A bit of another 'what bike rack' question here.
The other day I had my ransom on the roof of my car in an Altera rack like the pic below. Now at the best of times I can only get the bike 80% of the way into the clamp and I then use a ratchet strap to secure it further. The problem is the location of the rear shock in that it swallows up all the room where you would normally clamp too. (see pic) I currently clamp right next to the bottom bracket with limited success as I mentioned.
It can also be stolen and it can and has slipped out (fortunately the strap held it sort of upright!)
Anybody know if any sort of rack would fit or of any other lockable roof mounted rack would. With bikes coming in ever more varied setups I would have thought somebody would make something that is reasonably flexible in what it can hold.
I need a very tall 'arm' on the rack to be able to get beyond the shock...if you sort of know what I mean!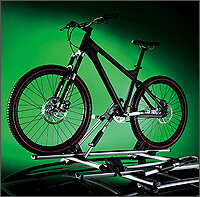 Scott Ransom 10

Stumpy FSR Comp

Wilier Izoard

1994 Shogun Prairie Breaker Expert...ahhh yesssss

'I didnt need those front teeth anyway..'