Forum home
›
Road cycling forum
›
Road beginners
Not bad for a beginner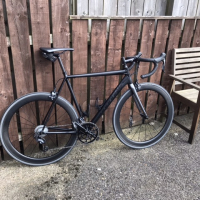 dg74
Posts: 652
Just had my first ride out on my new steed. Thought I'd only done a couple of miles (2-3) but when I got home I just worked out my route on MapMyRun.com.

Turns out I done 8.58 miles in 49 mins 38 seconds. That (using their MapMyRun workout calculator) comes out at average speed of 10.37 mph, ave pace 5.47 per min/per mile, my BMI of 26 and I burnt 388 cals.

Not bad for someone who hasn't ridden in 15 years or so. Few weeks of that and I'll be pushing those figures right down.