Forum home
›
Road cycling forum
›
Workshop
HELP! - Bizarre Stubborn MBK Bottom Bracket
Hi,
I'm desperately in need of help with a bizarre bottom bracket that I have been trying to dismantle on an 80's(?) MBK Mistral.
I took off the octagonal lock rings and the drive side cup was unscrewable by hand, but I cannot for the life of me work out how to get the other 'domed' cup off. It seems to be connected to or part of a sleeve on the drive side (which the drive side cup screwed in to) and has no visible purchase holes/flats etc to enable me to grip and unscrew it. The axle appears to be permanently connected to it due to the the wider splays on either side of the dome.
Please see the pictures below for more detail. It is beyond me - I have never seen a BB like it - And I don't really want to go to the expense of having it ground out.
Both lock rings were removed anti-clockwise and all threads seem to run in that direction. I've had a plumbers wrench on the threaded part of the dome and tried to shift in both directions but there is insufficient purchase to budge the thing.
Left hand side protruding 'dome'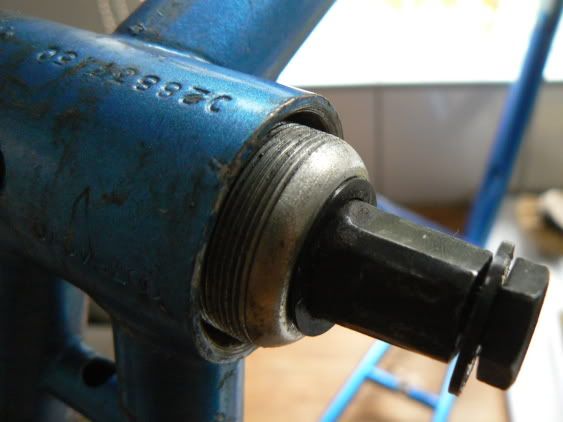 Drive side threaded sleeve
Lockrings and cup (with some of the bearings that didn't escape under the cooker)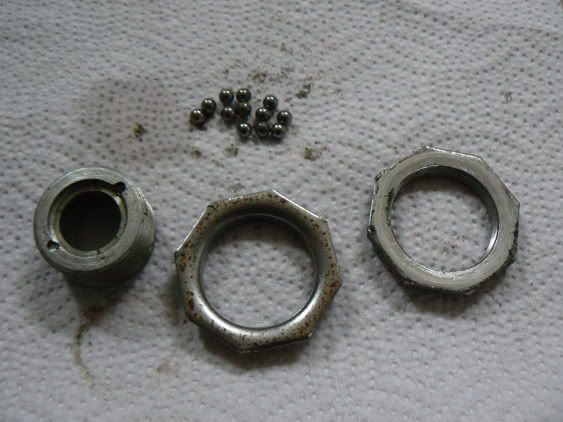 My diagram of what I consider the construction to be when installed.
Please help me - before I try and chew the damn thing off. :? J