Forum home
›
Mountain biking forum
›
Events, competitions and races
›
XC and Enduro
What can I expect at Dalby forest??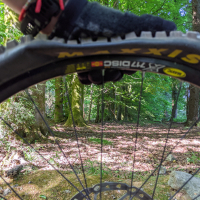 endurojcb
Posts: 167
Hi,
I'm off up tut north next weekend to Dalby forest for the weekend. We're stopping off at a mates in Nottingham on the Friday night and then staying in a camping barn somewhere near to Pickering just down the rod from Dalby on the Saturday night.
Anyway, having never ridden my bike in the Yorkshire area I don't know what to expect from the place and was wondering if anyone out there can shed some light on the situation. I rode Coed-y-Brenin and Penmachno not too long ago and have been to Les Gets and Les Arcs in the alps (which will be nothing like Yorkshire) before. I'm assuming the Dalby won't be the same as north Wales as far as conditions are concerned. I got it stuck in my head that it'll be very damp and muddy without being particularly rocky like North Wales. Anyone got any views on the matter??
Thanks
2007 Merlin Malt 4