Forum home
›
Mountain biking forum
›
Health, fitness & training
The Body Mass Index (BMI) is a load of C&*%!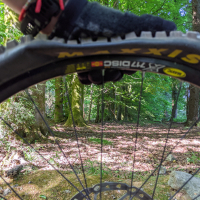 endurojcb
Posts: 167
I had a BUPA medical through work today. Lucky us, we get one every 2 years free of charge.
Anyway, I got told that my BMI is 28.1 based on my height of 5'8" and a weight of 13st 4lb's. The nurse then went on to tell me that I need to loose weight and how unhealthy it is to be at that level. I know I need to loose a few pounds really. I was 12st 5lb's just over a year ago and even had a noticeable six pack (not a proper chiselled one) too. Even at that weight my BMI would be 26.5 which is over weight. The whole Endland Rugby team would be over weight too!
Anyway, I have a body fat percentage of 18.5% according to a machine they have at my gym (that'll be nearer 15% in a few months after some proper training though), so I'm not going to die of heart failure due to being obese just yet thankfully.
2007 Merlin Malt 4