Forum home
›
Mountain biking forum
›
Health, fitness & training
I'm always injuring my left leg, what have I done now?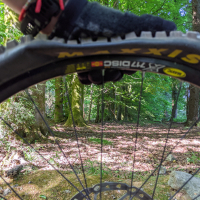 endurojcb
Posts: 170
I always seem to be injuring my left leg, and I don't know what I'm doing wrong.

First I tore a muscle in my groin/top of my left leg while doing a short but very steep climb (it just kind of popped). I then had to have 10 weeks of phyiso on it because the scare tissue healed up really tight so it had to be torn away from the muscle (I don't think I've ever been in so much paid as when the physio was proding her thumb as far into the top of my leg/groin muscle as possible).

Now I seem to have done something to my left knee.

I went out for a ride just over a week ago with a friend for about 3 hours in total, so not too long really. But after two hours of pedalling through the quagmire like bridleways and byways in my area I noticed that my left knee was starting to ache/hurt near the top towards the inside (if you were to look at someone's left knee, the pain would have been at roughly the 10/11 o'clock position of the patella near where I assume one of my quads must connect to my knee). It was only hurting every time I pushed down on the pedal putting a lot of pressure on it (such as going up a moderate climb). I had a feel while pedalling and noticed that there was the feeling of a slight clicking coming from said area every time I pushed down on the pedal. By this stage I was some 7.5m miles from home on the loop we do, so had to push on and deal with it. Anyway, by the time I was home It hurt like hell to pedal on it especially as there is a nice 1/2 mile stretch of road with a steep climb just before the finish.

I did start spinning at the gym twice a week about 3-4 weeks ago. One 45 min session on a Monday and an hour long session on a Thursday, but I hadn't noticed any problems while doing that.

The area in question continued to hurt/ache for 3 or 4 days after the ride. It was fine to walk on, but if I got up from my desk at work to quickly I'd be reminded of it immediately. It doesn't hurt any more though, but I'm worried about getting on my bike and doing it all over again now.

So, does anyone know what I have done, and if there's any way of preventing it in the future? And why is it always my left side that I injure, bearing in mind that I'm right handed and as far as footy goes, I'm right legged too?
2007 Merlin Malt 4