I have this bike box Alan (
www.bikeboxalan.com
) for a month. It is time to go for my first trip with it and hence now doing this review.
The box ordering process is kind of an adventure (I have to say in 2012 - come on!) since there is no online purchase and checkout options. I ordered it through email contacts. The office is prompt in their replies and usually within 24 hours. A few email exchanges later, I have ordered a black ones with a few stickers. They have a wide range of stickers for your favourite bike parts. I only had my name, an Ozzie flag, Zipp, Specialized and Shimano stickers initially. They can also customised stickers but I knew I can get customised stickers in my home state, and I did not have the idea in mind then. It took 3 weeks to make and 1 weeks to ship half way across the globe via TNT.
Then I just add a few stickies myself: The red S on Specialized and Rapha Condor Club
.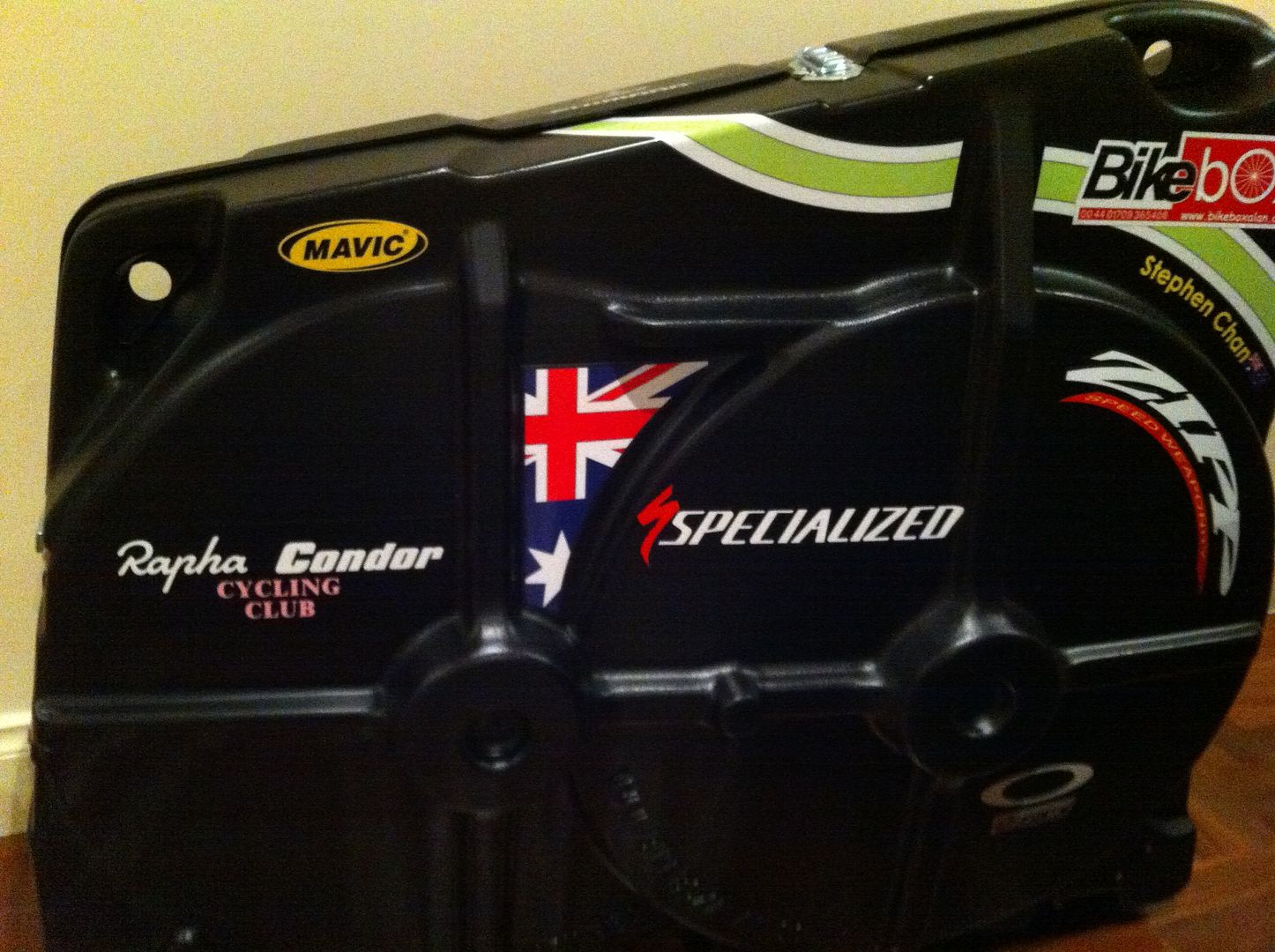 The box is high quality plastics. There is no bend or slack allowed on the box but it is yet light (about 11kg on my scale), lighter than my old bike suit case. In there are a couple of layers of compressible foam and a steel pole.
To put the bike together, I watched this
YouTube
video made by Bike Box Alan.
There are helpful hints inside the box too!
It is a nice touch and I even like the font they use on the box.
Here my layout and my tips:
(weight 20.3kg together)
- I have a 23kg per baggage item limit. So I don't have the floor pump in but instead I have one strap on the saddle and one on the seat post. Other stuff has to go in an another bag.
- I have Speedplay pedals so it will not stay with the velcro provided. So I place them together with the spare tools (hex keys and pedal wrench etc) in a bag that have velcro at the back (just happens it is the one came with my set of Standard III clincher
).
- It is a nice idea to have caps for the skewer handle so it won't get rubbed.
- At the end I have a few unuse velcro but it is ok.
A note for the velcro - they look replaceable, high quality and sticks in all areas. So it looks like it will fits any bike and in any way you like to strap it in.
- I then place a few new micro fibre rugs (for cleaning) and bubble wrap around the tubes.
Pros:
I have something similar to the DHB/Wiggle one before (called
TC-1
). But there is no separate areas for wheels like this bike box and the rear derailer needs to be removed to just to fit in the box. Someone does remove the derailer anyway using the BikeBox Alan to make sure there is absolutely no chance of bending the rear hanger. Hey but I am lazy. I wonder if it is going to backfire on me (hope not!). There is no way of any force getting the derailer anyway (not even ultrasound shockwave I think
).
With the video I have complete idea what to do rather than guessing, remembering or photographing what I have done for the other bike box.
A few very minor cons:
- I think the only potential problem with the box is that there is a slight chance that lock will come loose during air transport. So if you are travelling by air, it is probably wise to put a few cable ties in the hole provided. I have a pad lock on the top one.
- It is slightly hard to guide the crush proof pole dead set in the middle. If the bottom holder is taller then it may be easier. Try to check it when the box is upright. Somehow it is easier.
- Fragile sticker needs to be included. I know Alan thinks the box is indestructible but I don't want the airport groundsmen know about this!