Forum home
›
Road cycling forum
›
Pro race
Giro 2020 - Stage 11: Porto S.Elpidio – Rimini 182 km *Spoilers*

blazing_saddles
Posts: 21,604
Stage 11: Porto S.Elpidio – Rimini 182 km
Wednesday, October 14th, 11:05 BST
The only real chance for a bunch sprint of the second week. The first 105 km of this stage are pan flat along the Adriatic coast, from the starting town of Porto S.Elpidio.
Porto Sant'Elpidio played a role in the 2012 Giro d'Italia. The 6th stage finished in the coastal town, while breakaway rider Miguel Rubiano took the spoils. More recently, Porto Sant'Elpidio hosted stage finishes on the Tirreno-Adriatico. In 2014, Mark Cavendish sprinted to victory and in 2015 Peter Sagan took the spoils at the end of a rain-soaked race.
No finish this time, but the race kicks into gear in Porto Sant'Elpidio to follow the coastline all the way to Rimini.
Monte S.Bartolo (GPM4, 3.9 km at 4.1%) will provide the only categorised climb of the day. After it, the route goes inland for a section of rolling terrain, including the second intermediate sprint of Coriano, before heading back to the coast, finishing in Rimini.
The last km are, as often found at the Giro, quite tricky, featuring a series of turns.
Forming trains won't be easy and the potential for a disaster never far away, but the bunch sprint should be unavoidable.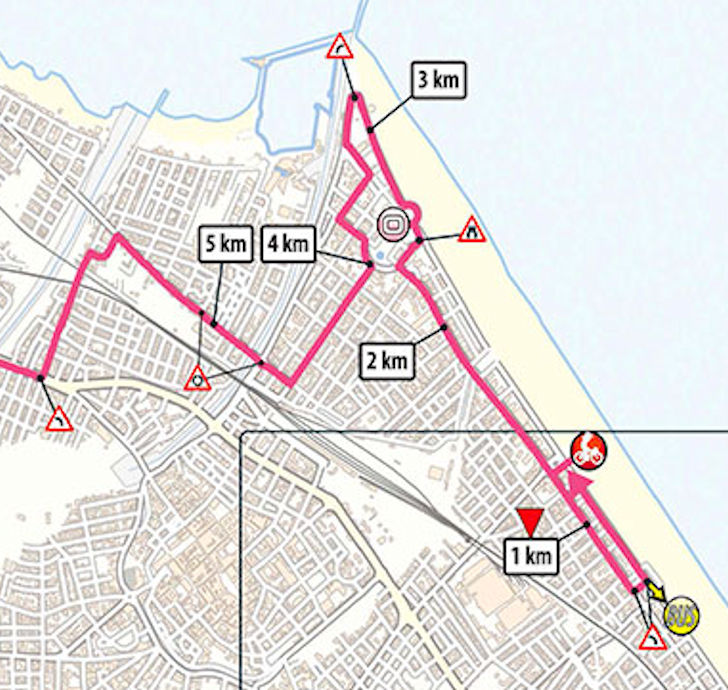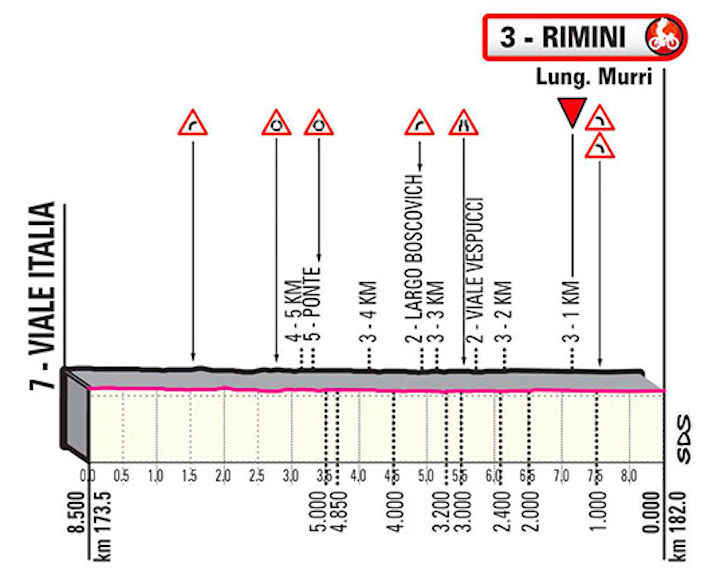 The two intermediate sprints are at kilometre 111.3 and kilometre 144.1.
Porto Sant'Elpidio
Porto Sant'Elpidio stretches for over 7km on the Adriatic coastline and, with its renovated city centre, is one of the youngest and most dynamic cities in Fermo province.
Traditionally renowned for high-quality handmade woman footwear' production and for being a shoes shopping district, in the last decade become a popular tourist destination.

Food
The local cuisine is linked to the seafaring culture and the main ingredient is fish. Traditional recipes include "Sardoncini a scottadito" grilled breaded Sardina fish that can be tasted during the food festival in August.
Drink
Locally produced red wines are Rosso Piceno e Rosso Piceno Superiore;
white wines are Falerio, Pecorino, Passerina. Vino cotto,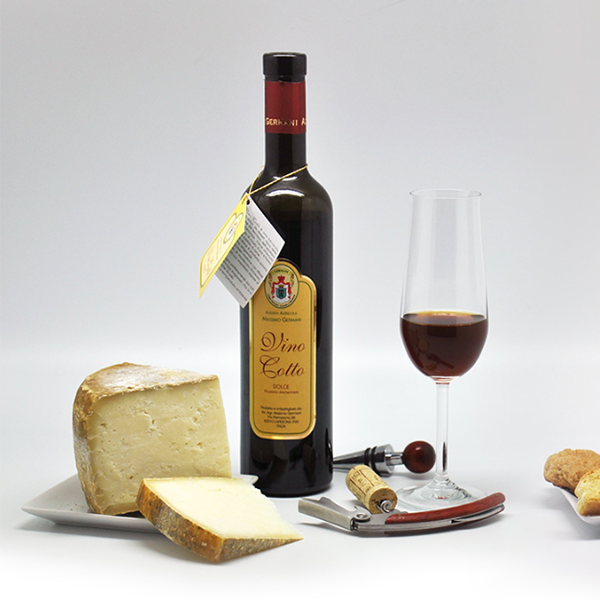 passito (raisin wine) and spumante (sparkling wine) are also prepared from the same grapes.
Rimini
Rimini, the ancient Ariminum, is also a city of art with over 22 centuries of history. The medieval city grew within the Roman city. The spectacular Piazza Cavour (Cavour Square), with the Fontana (Fountain) – described by Leonardo da Vinci when he passed through Rimini in 1502)- and the most important public buildings.
Food
You cannot leave Rimini without having tasted a real local piada. Difficult to resist the dozens of kiosks present in the city. The Rimini piada is thinner than that of the rest of Romagna. You can fill it as you wish: ham and squacquerone or wild herbs, vegetables au gratin, up to – but do not tell the purists! – chocolate.
"Science is a tool for cheaters". An anonymous French PE teacher.