Forum home
›
Road cycling forum
›
New Wheel set advice required.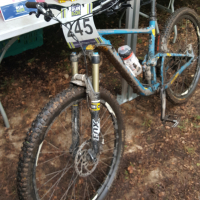 oxoman
Posts: 8,101
Currently using American Victory Classic 30 wheels which are coming to their end of life rim wise and wondering what I should do. Replace Rims, Factory built set or Handbuilt set. Current set have done around 10k so don't owe me anything and the hubs etc are still good. Bike gets used for commuting, Audax and light touring along with wet weather duties and I'm a svelte 85kg when at my heaviest. Ideally not looking at spending stupid money and their ten speed rim braked, rims should last me till end of the summer so no rush. Advice welcomed.
Too many bikes according to Mrs O.