Forum home
›
Commuter cycling forum
›
Commuting chat
Widely Varying Energy - How's That Work?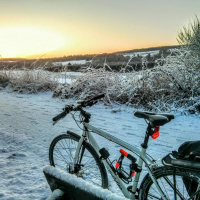 seajays
Posts: 330
I've noticed since starting my commute that each day can be quite different in terms of how you feel, whether you have the energy, and how hard it is on the legs etc. This can have quite widely varying levels of performance - with some days seeming to fly, and other being a real struggle. The thing is there doesn't seem to be an obvious pattern or reason why one day can be great and the next is so different...

So it got me to wondering... how do people who compete manage to prepare and be ready for the "big race" with the best energy levels etc.? Clearly randomly varying performance is a no-no, so it must be possible to mitigate it somehow. Is it something that gets better with time/fitness, or is it a combination of all sorts of preparation, or do you just somehow "burn through" the tough start and it all evens out in the end anyway?
Cannondale CAADX Tiagra 2017
Revolution Courier Race Disc '14
My Strava