Forum home
›
Commuter cycling forum
›
Commuting general
Advice on purchase of commuting bike steep terrain
kev3kev3
Posts: 3
Hi,
I am looking for some advice on a bike which would be a sensible purchase for my mon-fri commute.
The picture shows roughly what the commute would be as can be seen the journey has very steep inclines.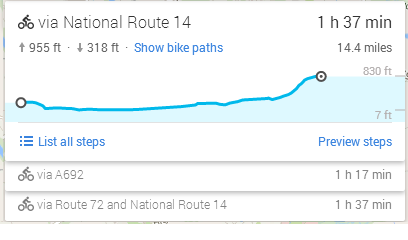 I have not the first clue about bikes so good advice would be very much appreciated.
As for budget the lower the better, but I dont want something which is going to make the journey unbearable and unreliable.
Many Thanks,
Kevin
Would the following be suitable
http://www.bikeradar.com/gear/category/ ... -11-44902/