Forum home
›
Mountain biking forum
›
Your mountain bikes
DMR Trailstar, my first n+1 bike...
blazingmonga
Posts: 97
Ive not long finished this bike, which was built as a second bike for me and also one my wife could use. I got the frame for £20 from ebay, which turned out to be an absolute steal as it was in really good nick. I cant remember all the spec as a lot of leftovers went into making it, which was originally why I went 1x8 but now I quite like this setup.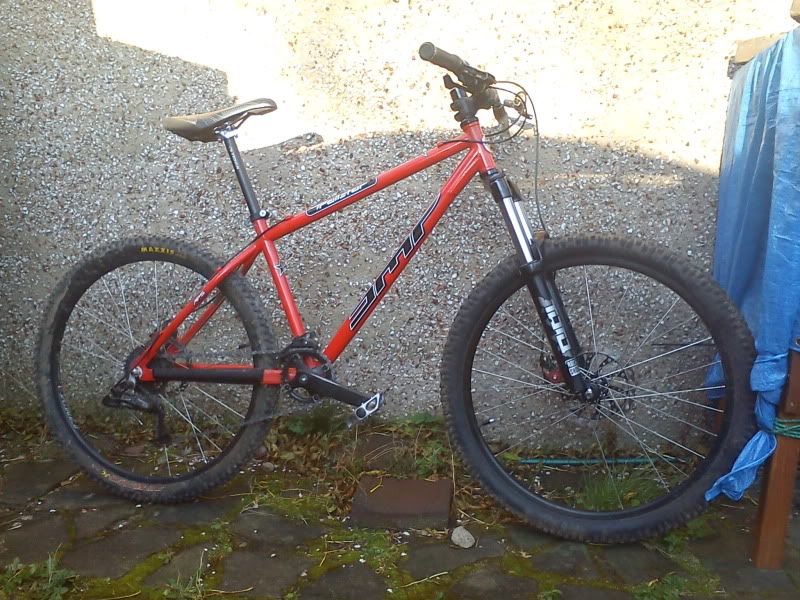 Frame: 2007 (I think) DMR Trailstar
Forks: Rock Shox Tora 302 solo air
Bars: Outland
Stem: Outland 50mm
Headset: Superstar Uno
Grips: Outland lockon
Front Brake Lever assy: Avid speed dial
Front Caliper: Avid BB5
Front disc: Clarks 185mm
Rear Brake Lever assy: Avid speed dial
Rear Caliper: Avid BB5
Rear Disc: Avid G2 clean sweep
Shifters: SRAM X5 I think
Cables: Goodridge
Rear Mech: SRAM X7
Chain Device: Superstar XCR ST
Seat: Speciaized something
Seat Post: Tioga
Seat Post Clamp: Brand-X
Cranks: Not sure...
Chainring(s): 32t
Chain: KMC 9 Speed
Cassette: SRAM 11- 32 8 Speed
Pedals: DMR V8
Bottom Bracket: Shimano
Other info: Its red!