Forum home
›
Road cycling forum
›
Your road bikes
Simoncini Special Professional Rebuild
SLN57
Posts: 69
Simoncini Special Professional (No.54) Rebuild
Just finished this, I built it to use as my winter bike. It rides very well considering its weight of 10.3kgs, smooth as silk compared to my carbon framed bike just not quite as willing on the hills.
Its a mixture of old and new so won't please the purists but I think it gives me the best of both worlds.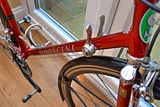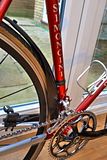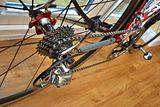 I know very little about the frame except it's Italian, hand made and probably mid range at best. The badge on the headtube is not correct, Simoncini weren't interested in selling me a new one so I designed my own, I will change it once I can afford to have a correct copy made. This sticker is the only one on top of the lacquer.
Can anyone out there tell me anything about this frame like when it was made, was it any good etc?