Forum home
›
Road cycling forum
›
Road general
Kirk Precision Frame Advice
nfrang
Posts: 250
Hi guys
I'm over from the MTB forum for some advice on what to do with a frame that's been in my dads loft for the last 20 years or so.
If i had the funds i'd like to build it up myself but it'll most likely go on ebay.
Has a few scrapes but seems sound with no cracks i can see. More pics on photobucket.
Thoughts?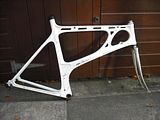 big pic here
http://i582.photobucket.com/albums/ss26 ... CF0124.jpg