Forum home
›
Commuter cycling forum
›
Commuting chat
Commuting by train with a Downtube folder!
AlwaysBiking
Posts: 4
Hi folks, I'm a newbie to this forum so thought I'd introduce myself a bit.
I'm a lifelong, full-time cyclist (I don't own a car) and have always cycled to work. And home again. (Obviously.)
On 1st July I'm going to be starting a job in a nearby town, so for the first time in my life (at age 44!) I shall be getting a train to work each day from Bedford to Flitwick. Ten minutes on the train with some cycling at either end. Perfect!
I really wouldn't want to give up my daily cycling, so I wanted to be able to use my bike at both ends of the journey (also to save on commuting time), so I thought long and hard about getting a folding bike that I could take on the train without restriction. Having my choice somewhat limited due to being 'not very flush', I did a lot of looking around on the internet, and as a result, I recently become the proud owner of a rather groovy Downtube folding bike that was on offer at the Velochocolate website.
This is my baby: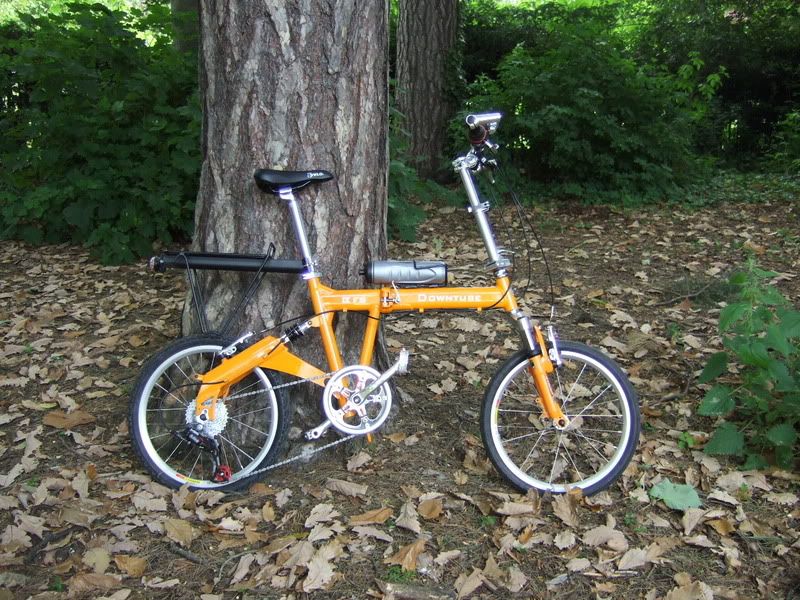 I'm far from being an expert on folders - this being my first nervous venture into folding territory - but I'm impressed with what you get for the price, including full suspension and a nine speed derailer. It rides well too, which is just as well, cos I've decided it's going to be a complete replacement for my old (and very clapped out!) MTB. To be honest it's made me feel like a kid all over again! Getting a new bike does that, doesn't it, no matter how old you are! I didn't actually realise that I would get stared at so much on a folding bike, but I guess that's cool.
So yeah, I shall be going from a solely cycling, cross town commute, to a bike-train-bike commute and I'm looking forward to it.
And the best bit of all is that as I live in a flat, and storage/security/vandalism has always been a major headache, I am now able keep my bike in a cupboard at home!
So peace and happy commuting to you all!