Forum home
›
Mountain biking forum
›
MTB general
Cannock Trails warning again.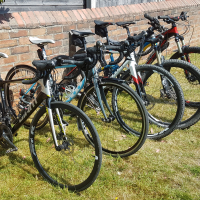 oxoman
Posts: 11,735
It would appear that trail fairy's have been putting wire across the trails again. Following a local riders FB post this week. Don't know which bits, but looks to be fairly flat bit. Luckily the wire wasn't neck height this time. Rider is OK but a bit battered and bruised. Old Bill informed and obstruction obviously removed.
Too many bikes according to Mrs O.