Forum home
›
Road cycling forum
›
The bottom bracket
Friday, Joining the workers.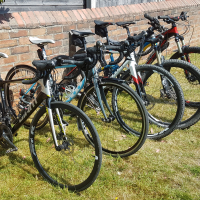 oxoman
Posts: 11,310
Morning Grafters. Sadly I have to return to work today as a one off as some muppet booked me on a training course. Looking Artic cold outside so wrapping up before the pedal in. Luckily still finishing at lunch so long ride home. Enjoy your wkend folks.
Sungod posted as I wrote this argh. You win SG
Too many bikes according to Mrs O.