Forum home
›
Road cycling forum
›
The bottom bracket
Last Friday ever. Potentially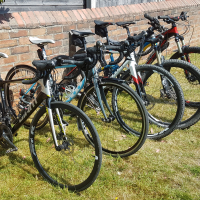 oxoman
Posts: 11,624
Morning all.
Dark and coolish but dry out.
WFW as usual.
Slight twist to today, its my last working Friday at work unless covering for holidays as I go down down to a 4 day wk. Wahay so Thursday will become my new Friday in future. Have a good weekend all.
Too many bikes according to Mrs O.