Forum home
›
Road cycling forum
›
Training, fitness and health
Reliable Heart rate sensors.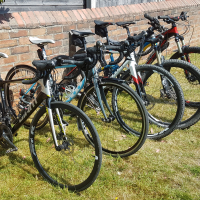 oxoman
Posts: 11,741
As the title suggests I'm after a heart rate chest sensor that links with strava on android Bluetooth connection that's reliable. I'm not interested in Garmin as I have had nothing but grief with these. Looking at cheaper one they seem to have very mixed reveiws and poor reliability. Looking for something better than the fitbit charge 3 link I normally use. Not looking to spend stupid money either. Any suggestions, it's for biking and running.
Too many bikes according to Mrs O.