Forum home
›
Road cycling forum
›
The bottom bracket
Garmin advice required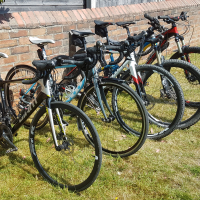 oxoman
Posts: 11,455
Got a garmin edge touring that's about as reliable as an ice cube in the desert. So I'm after suggestions.
Smash it to be bits and post on YouTube.
Set fire and similar.
Just lob it in the bin.
Sell on fleabay to some unsuspecting punter and plead ignorance or disappear.
Should say this was a warranty replacement for another that was useless. Don't have access to a shotgun or a trebuchet so they can't be considered.
Too many bikes according to Mrs O.