Forum home
›
Road cycling forum
›
Are HR straps basically consumables...?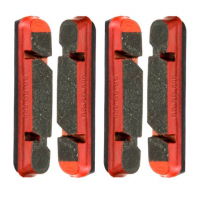 neeb
Posts: 4,463
I've had several HR straps over the last few years from the usual suspects (Wahoo and Garmin mostly). They always work fine out of the box, but then at some point (usually after about a year of use) they start giving erratic readings, jumping between unrealistic HR figures and "flatlining" on them before jumping to another reading.

The pattern is always the same - to begin with, the erratic readings are usually only while warming up before generating a sweat and are worse indoors, then it gradually becomes worse so that the readings become useless most of the time. This usually prompts a battery change, which usually doesn't fix it but wastes a (probably) perfectly good battery.

The WAHOO TICKR and the Garmin straps seem to be as bad as each other. I've just gone back to Garmin after two failed TICKRs, having switched to the TICKR a couple of years back from Garmin...

Should we just accept that these things wear out and replace them every few months? If so, it would be good to know for certain whether it is the strap itself or the clip-on unit that is at fault and only replace that, if for no other reason than to avoid unnecessary electronics waste. My guess is that it's the fabric straps that wear out. I see that it's possible to buy the Garmin ones separately, although they are not much cheaper than the HR monitor itself. Wahoo also seem to sell the TICKR straps and for quite a decent price, although they are currently out of stock.

I think if these things are expected to wear out this quickly the manufacturers should be more upfront about it and actively encourage the sale of the straps seperately.