Forum home
›
Road cycling forum
›
Road general
Summer long bib tights. Suggestions and availability.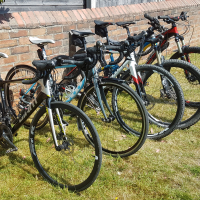 oxoman
Posts: 11,746
Morning folks, I'm after summer bibtight longs for an upcoming 5 day ride. Normally use shorts but weathers not looking the best at the minute. I can find loads of winter style which I've already got enough of tbh, I don't get on with leg or arm warmers so non starter for me. Looking for good quality and also padded ones. I've looked online and nothing appears available. Anyone seen anything available.
Too many bikes according to Mrs O.