Forum home
›
Road cycling forum
›
The bottom bracket
Monday Mourn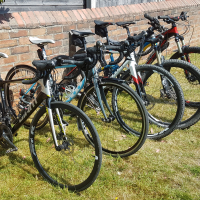 oxoman
Posts: 11,277
Morning All. Dark and icy out a I get ready for another set of shifts at work.
After yesterday's ride I feel a run coming on tonight. Glad I don't live in the city,s with all the hassle going on, almost looks like rent a mob. Suspect Bojo Is in for a bad week, what with the EU vaccine row and UK protests. Have a nice day all.
Too many bikes according to Mrs O.